Continental Is Designing a Healthy Ecosystem for Climate-friendly, Economic and Social Mobility
Continental presents its environmental strategy: Renewable energy at all production sites from 2020, CO2-neutral in production by 2040
CEO Dr. Elmar Degenhart urges the automotive industry to be CO2-neutral by 2050
Continental is ready for the future: Innovations such as fully integrated axle drive are the basis of a healthy mobility ecosystem
Degenhart: "Optimism instead of doing without mobility! We are working on new technologies to protect not only the ecological climate, but the economic and social ones as well."
Frankfurt am Main, September 10, 2019. At this year's IAA press conference, Continental CEO Dr. Elmar Degenhart presented solutions regarding the most urgent challenges facing the automotive industry. Degenhart is optimistic that the automotive industry can achieve CO2-neutrality across the entire supply chain by 2050. Specifically, the company has set the goal for itself to be CO2-neutral in all of its production processes by 2040. As a first step, Continental aims to procure its electricity exclusively from renewable sources at all of its worldwide production sites by the end of 2020.
For Continental, a CO2-neutral production constitutes part of the requisite healthy mobility ecosystem. The technology company will present numerous pioneering innovations at the IAA under the slogan of "Mobility is the Heartbeat of Life." The innovations provide for the reduction of emissions, enhanced safety and greater connectivity and digitalization for more comfort and convenience as well as fewer accidents. In view of the weakening economic situation and the investments that are required for the mobility of the future and digitalization, Degenhart called on the German government to support the economy by reducing tax and duties for companies and consumers.
Continental is the architect for the healthy ecosystem of mobility
With its IAA slogan "Mobility is the Heartbeat of Life," Continental is building on one conviction: There is no quality of life without mobility. Continental understands itself as an architect in this regard: "We are designing the healthy ecosystem of mobility. Healthy mobility is the opposite of doing without mobility. Healthy mobility is optimism in our future. It is clean, safe and connected. Our solutions help people and society to achieve a higher quality of life, faster progress, greater environmental protection, and more personal opportunities for the future. Our heart beats for this," said Degenhart at the IAA, while explaining Continental's mission for a positive transformation of mobility. He expressed that, for Continental only a healthy mobility ecosystem can sustainably meet any future mobility needs, enable long-term and profitable growth for companies, create attractive jobs and contribute to prosperity.
Continental presents its new environmental strategy: CO<sub>2</sub>-neutral in production by 2040
"Future mobility will be climate-friendly, as well as economically and socially viable," said Degenhart at the IAA, while he outlined the future mobility ecosystem. "Our aim in this is to have technologies that are both eco-efficient and socially acceptable. In this way, we protect not only the ecological climate, but the economic and social climates as well. To achieve this, we have to take all of these things into account right from the production stage."
In Frankfurt, Degenhart presented various components of Continental's new environmental strategy. The technology company will be further optimizing its production processes with regard to CO2 emissions achieving complete CO2-neutrality by 2040.
"We want to become even more energy-efficient," Degenhart explained. "In terms of sales, we will reduce our energy expenditures by a fifth over the next ten years." In addition, Continental is fully committed to renewable energy. By the end of 2020, the company aims to procure 100 percent of the electricity it uses at its worldwide production sites from renewable sources. Other elements of Continental's environmental strategy relate to resource efficiency, waste reduction, and the sustainable use of water in regions where access to clean water is extremely difficult.
An appeal to legislators: Reduce the tax burden on the industry!
The technology company Continental is taking the IAA as an opportunity to make a clear appeal to legislators in Germany. "Germany is subject to the highest corporate taxes of all of the OECD countries. In addition, social expenditures are very high here, and energy costs are the second highest in the world. With such high burdens, we cannot continue to compete globally when growth is stagnating. Lower taxes and costs allow for higher investments and thus more innovations! Something has to be done," Degenhart emphasized.
"We are convinced that by 2050 at the latest, the automotive industry must be CO2-neutral. This is feasible if business and politics tackle it together. Therefore, we appeal to politicians to set targets that are eco-efficient, i.e. economically sensible and environmentally achievable," said Degenhart. He added: "Our industry can keep mobility clean in a sustainable manner, especially if it gets greater support at this point. After all, the German automotive industry is indeed ready for the future. If you start experimenting with the automotive industry, you are tampering with one of the biggest and most influencing factors in the German economic area, and it could have far-reaching consequences, both positive and negative."
At the same time, Degenhart wishes for more confidence in this time of change: "What we lack is more optimism. In Germany, we tend to speak ill of our capabilities and performance. It would be better to acknowledge and foster our strengths!" Degenhart referred to innovative achievements in the automotive industry: the evolutionary changes in the areas of automated, autonomous and connected driving, as well as the radical disruptive changes in electric powertrain technology.
Continental is showcasing an electric drive system at the IAA that not only reduces weight and cuts costs for vehicle manufacturers, but also shortens the development time to volume production thanks to the high level of system integration.
Lower emissions, fewer bicycle accidents: future-oriented innovations for the healthy mobility ecosystem of the future
In addition to its fully integrated electric axle drive, Continental is presenting at the IAA many other innovations for healthy mobility. Visitors to the trade fair can try out a driving simulator in which they can experience safe, intelligent and stress-free driving in a connected car of the future. "High-performance computers, intelligent surfaces and cloud connectivity will turn the vehicle of the future into a digital companion," said Degenhart, pointing out the efforts being made in the area of connectivity.
In addition, Continental is presenting its brand-new short-range radar sensor. The key feature of this sensor is that it can detect other road users and obstacles with great accurately. A cornering assistant can thus recognize a road hazard much faster than ever before and can warn the driver more quickly, request emergency braking or trigger emergency braking automatically. This will help to avoid bicycle accidents with trucks or cars, for example. "It has been our firm conviction for many years that traffic accidents belong nowhere better than in museums. The technical solutions are evolving in our hands right now," Degenhart said confidently.
Contact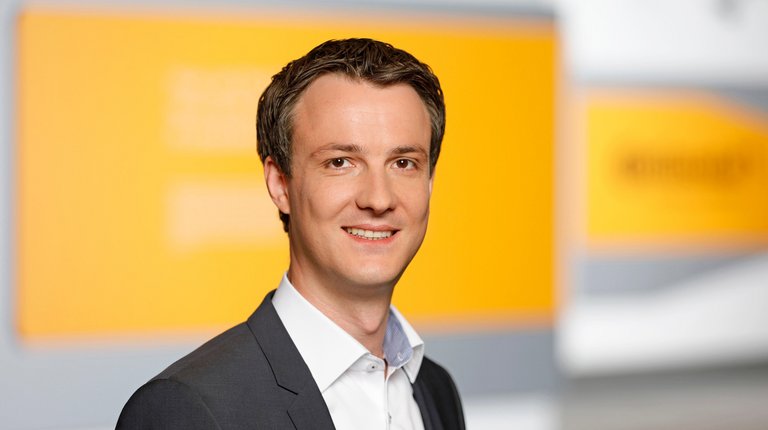 Vincent Charles
Head of Media Relations