Transport logistic is the leading international trade fair for logistics, mobility, IT and supply chain management. It is held every two years in Munich since 1978. In addition to innovative products, systems and technologies, it offers visitors focused expert knowledge. Continental has been represented by its VDO and Continental brands and presented commercial vehicle fleet managers with solutions that simplify the implementation and verification of compliance requirements.
Contact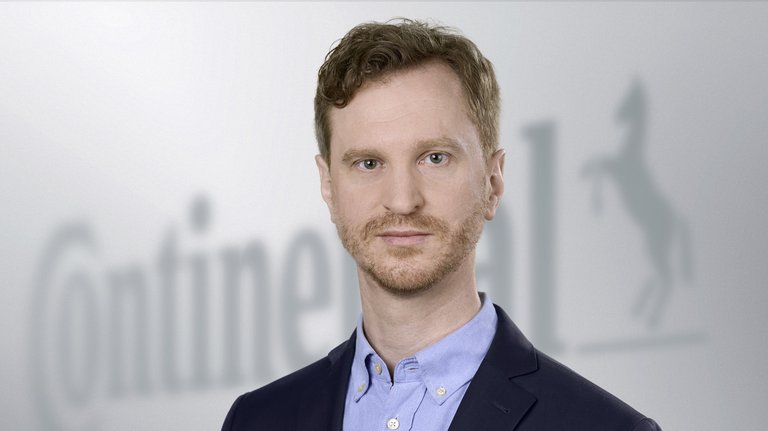 Oliver Heil
Media Spokesperson Smart Mobility
Continental Verified Inspection
More control and transparency through systematic vehicle checks
Unforeseeable damage to vehicles and unplanned repairs can confuse many a finished disposition. Digital solutions can help to bring more transparency to the fleet and more efficiency to the workshop processes.
Continental Verified Inspection (CVI) combines individual NFC tags with a smartphone app, thus enabling customized control processes and end-to-end data archiving of legally required or customer-specific pre-departure safety checks.
Benefits of CVI:
Individualization: NFC tags can be placed individually on the commercial vehicle, depending on the test specifications for the respective vehicle category and the requirements of the operator.
Reliability: Associated smartphone app registers all inspection tags that need to be scanned during vehicle inspection, as well as the time used for each section. Irregularities are noticed more quickly and can be corrected.
Security: Due to the complete archiving of the verified pre-departure safety checks, compliance with the requirements can be proven without gaps in the event of an official inspection or in the event of damage.
Transparency: Defects detected during the pre-departure safety check are recorded directly in the app, so that fleet managers and workshop managers always have a detailed overview of the current fleet status.
Efficiency: Defects can be prioritized according to severity and workshop visits or on-site visits by mechanics can be planned efficiently.
The intelligent tachograph of the second version DTCO 4.1 is coming!
The year 2023 marks two important dates for the tachograph world: The VDO tachograph celebrates its 100th birthday – and the intelligent tachograph of the second version, as defined by the EU Mobility Package, will be introduced.
Cut-off date 21 August 2023 for new vehicles
All newly registered vehicles with a gross vehicle weight of more than 3.5 tonnes shall be equipped with 2nd version smart tachographs.
DTCO 4.1: Comprehensive control and data collection beyond driving and rest periods
The new DTCO 4.1 brings new and partially changed functions and provides even more reliable data for even more efficient controls in international freight transport. New and better features include:
Automatic detection and recording of border crossings to better document cabotage journeys and driver deployments
Logging of position and time during loading and unloading processes
Doubling of storage capacity from 28 to 56 days (mandatory from the end of 2024)
More data security and protection against cyber-attacks by using the European Galileo signal (OS-NMA)
DTCO 4.1's ability to transform data into trustworthy, secure, and uniquely identifiable data creates opportunities that go far beyond regulatory control to include microservices that make life easier for commercial vehicle fleet operators.
VDO Link connects tachographs directly to the cloud
The VDO Link bridges the gap between digital tachographs and online fleet management platforms such as VDO Fleet. As the first plug-and-play solution, it will make it possible to retrieve and process tachograph data remotely in real time – without having to permanently install telematics modules in the vehicle. This is of particular benefit to smaller fleets that have not been able to make optimal use of their tachograph data so far.
Simply plug in, register and the tachograph is "online" – no workshop visit necessary!
Fleet managers receive vehicle and driver data in real time via the Continental Cloud
Mandatory data download remotely via VDO Link
Maximum data security through secure mobile connection and Continental Secure Cloud backend
Open interface concept for the integration of new, innovative fleet services
An example of new services made possible by the VDO link is the talking tachograph. The platform, developed together with ZeKju, supports drivers in complying with their legal obligations. With the help of real-time tachograph data in the cloud, the driver receives a message via the smartphone messenger of his choice – in his native language – in all situations where compliance is important.
Manage fleets digitally with cloud-based software
In 2022, TIS-Web became VDO Fleet Services – the digital platform for fleet management. It already supports more than 20,000 fleets in their daily challenges – always with a focus on complying with legal requirements at national and European level.
VDO Fleet Tachograph Management is the transparent and well-structured central tool to comply with legal requirements and optimize your fleet management – secure, cloud-based and accessible from anywhere.
Fully automated processes for tachograph data download, archiving and reporting
Clear dashboard with all important key figures
VDO Fleet Scorecards (ERRU) provide insight into violations and ERRU system limits
VDO catalogue of fines ensures cost transparency by linking potential violations to the respective country-specific amount of fines
Smart open interfaces enable import and export of data from upstream or downstream systems, such as payroll or freight exchanges
In addition, with VDO Fleet Tachograph Live Services, you can keep an eye on your drivers and vehicles at all times. With real-time information about routes, locations and remaining driving times, you can plan more precisely, specify arrival and delivery times, shorten waiting times and further optimize routes and loads.
Happy Birthday VDO Tachograph!
In addition to the premiere of the new smart tachograph of the second version, Continental is celebrating another event this year: exactly 100 years ago, the father of the VDO tachograph, Dr. Herbert Kienzle, invented the first device in Villingen in the Black Forest that recorded the driving and stopping times of a vehicle on a small diagram disc: the Autorex clock, the great-grandfather of today´s tachographs.
A lot has happened since then. The round shape became a flat box that fits into the radio slot in the dashboard. The centrifugal pendulum principle originally used for speed measurement was replaced by the much more accurate eddy current principle. Today, the tachograph data are no longer recorded in analogue form on a diagram disc but are stored digitally on chip cards as well as mass storage media and even transferred to the cloud in real time. And finally, in 2023, the collected data is no longer limited to vehicle speed, driving and stopping times as well as distance, but is a treasure trove of data from all kinds of sources in the vehicle, which, with the appropriate services, will deliver real added value for efficiency, safety and compliance.
What remains the same even after 100 years: the passion for precision and the tradition of the Kienzle Uhrenfabrik, with which we continue to work for the future of the tachograph at the Continental site in Villingen, Germany – hopefully for another 100 years.