Press Release
December 16, 2016
Continental Speeds up Evolution of AR Head-up Displays through Strategic Partnership with DigiLens
Strategic partnership will deliver ultra thin Augmented Reality Head-up Displays to enable wider market penetration in cars and to further increase safety on roads
DigiLens, a Silicon Valley based company, is a proven leader in holographic projection technology for Augmented Reality and Virtual Reality applications
Babenhausen, Germany / Silicon Valley, USA. December 16, 2016. The international technology company Continental has entered into a strategic partnership with DigiLens Inc., a leader in holographic projection technology for application in automotive and consumer electronics. The partnership has been formed to develop ultra thin Augmented Reality Head-up Displays that will further enhance a wider market penetration in cars of different segments.
"With this strategic partnership Continental aims to accelerate and boost the adoption of Augmented Reality in the automotive industry," said Helmut Matschi, member of the Executive Board of Continental and head of the Division Interior. "More and more drivers will have all relevant information in their line of sight; thanks to the advanced technology Continental and DigiLens will bring to Head-Up Displays. This will bring us closer to our vision of zero accidents." The technology will be displayed for the first time at the upcoming Consumer Electronics Show (CES) in Las Vegas in January 2017.
Compared to currently available systems, the ultra thin holographic Head-up Display from Continental and DigiLens will be smaller by a factor of three. It will need less space while at the same time providing a larger image with all the relevant information.
DigiLens, a Silicon Valley based company, is a proven leader in holographic optical waveguide technology and materials. The knowledge DigiLens has in Augmented Reality and Virtual Reality will enhance and compliment the expertise of Continental in the field of automotive Head-up Displays.
"With the breakthroughs we already have achieved in integrated optics, we are confident that together with Continental we will expand this technology to the automotive industry. Augmented Reality blends all relevant information provided by a Head-up Display, straight in front of the eyes of the driver. With that augmentation there is no reason not to keep your eyes focused on the road," said Jonathan Waldern, founder and CEO of DigiLens. "Together with Continental we will make roads safer and accelerate the adoption of Head-up Display technology."
The technology will also ease drivers into accepting automated driving faster. Automated driving will require a holistic human machine interface that will lead to a safer and more intuitive driving experience with an enhanced joy of use. This is what the new type of display technology will clearly provide. With increased acceptance of Augmented Reality HUD drivers will feel secure in the knowledge of what the car actually sees and knows. In turn, driver confidence in automated driving will be enhanced significantly.
Contact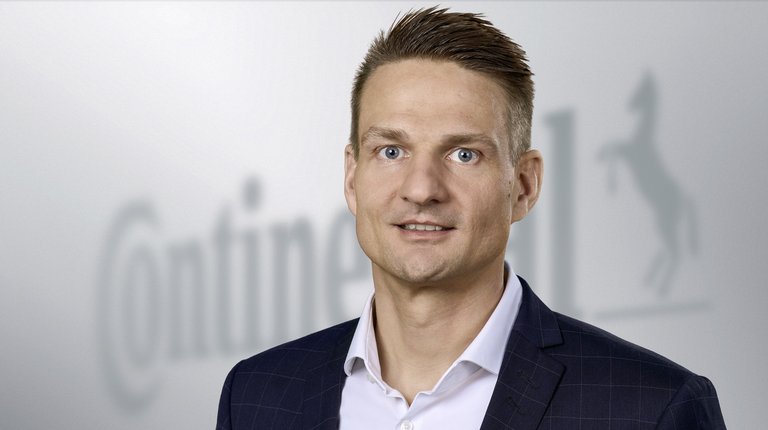 Sebastian Fillenberg
Head of Content, Media Spokesperson and Topic Manager Architecture and Networking