Press Release
October 09, 2017
Giving the driver full control: Continental permits the efficient operation of agricultural machinery
World first: MultiViu Compact 7 primary instrumentation is robust, cost-effective and versatile
World first: MultiViu Media combines vehicle connectivity with control and multimedia functions
Versatile and user-friendly: The modular driver's workplace puts human needs at center stage
New on the market: Air spring with sensor technology ensures greater efficiency in the field
At Agritechnica, Continental will be presenting a fully equipped vehicle cabin
Villingen-Schwenningen, October 9, 2017. Agriculture 4.0 is no longer a far-off dream. Agricultural machines communicate with one another, while sensor technology is making components and machines intelligent and providing high volumes of valuable data. Thanks to all this information, drivers can control their farm machines even more precisely, efficiently and in a more environmentally friendly way. Provided that their workstations always supply them with the relevant information from this growing data flow at the right time and in a clearly comprehensible way. And it is precisely here that the high-tech provider Continental shows its strengths. "Digitalization has the potential to bring about great increases in efficiency. To exploit these, it is vital to place the focus on the driver as the interface between information and action," explains Dr. Michael Ruf, Head of the Business Unit Commercial Vehicles and Aftermarket at Continental.
To show how this approach is implemented in practice at Continental, the high-tech company has equipped an original cabin entirely with its own products. Visitors to Agritechnica will be able to experience this themselves at Continental's trade fair booth (Hall 3, Booth F19). "We have already shown off our original cabin at a leading trade fair in another sector where we received nothing but positive feedback for this presentation concept," reports Ruf. "On the one hand, it allows visitors to discover innovations and get to know products that have proven themselves in other industries. On the other, they benefit from a realistic setting in which they can see how the components of the cabin interior work together as a whole."
Modular driver's workplace improves ergonomics
Anyone could be comfortable in this driver's cabin: The modular driver's workplace by Continental is extremely flexible and user-friendly that can be adapted to match many applications and meet customer requirements. All the switches are positioned within easy reach. Overhead switches can also be replaced by additional panels where required. As a result, the driver can concentrate on controlling the vehicle and the operating processes. Continental is constantly developing ways to expand the possibilities of the driver's workplace. It is already possible to implement a minimalist cabin style just as easily as a comprehensive premium version with cameras, multimedia applications and displays such as the MultiViu Professional12 instrument cluster. This fully programmable instrument cluster possesses a high-resolution 12.3-inch color TFT display, a real-time 2D graphic display and a video display. It eases the driver's workload by presenting all the relevant machine information clearly - as animated text, scales, bar charts or symbols. Drivers always see exactly the information they need for the current task. This ensures the greatest possible level of efficiency and precision.
A display to meet every need: The MultiViu Compact in the sizes 7 and 4.3 inches
The MultiViu Compact primary instrumentation with 7-inch display and touchscreen is a compact, affordable and above all versatile instrumentation solution. When switched off, it has a black, homogeneous surface (black-panel design) that fits perfectly into any interior design concept. Continental's developers placed great emphasis on a bright display that can be read even under unfavorable lighting conditions like bright sun. The MultiViu Compact 7's glass front and display are bonded to reduce reflections. The display is also robust, waterproof and vibration-resistant. An optional built-in Bluetooth module enables the driver to easily retrieve vehicle information like oil or fuel levels by mobile phone and forward this directly. As a result, this information can be used to plan journeys and service dates. Conversely, the screen can also display messages from a smartphone and inform the driver about incoming calls, for instance. Two CAN ports, a video input and multiple digital and analog inputs and outputs round off the technical features. As an entry-level variant, Continental also offers the MultiViu Compact with a 4.3-inch display – meaning that this version is available in the size of a smartphone.
The new MultiViu Media: Connectivity, control and multimedia functions all in one
The MultiViu Media instrumentation offers even more performance coupled with comprehensive instrumentation. The technology platform consists of a monitor, radio and display controller, is particularly resistant to water and dust and has IP 65 certification. This makes it ideal for tough agricultural conditions. MultiViu Media combines vehicle connectivity and CAN-mediated control functions with wide-ranging multimedia functions. Drivers can connect their smartphones to the MultiViu Media platform via WLAN, USB or Bluetooth and stream music, view the current weather forecast or operate further vehicle equipment at the integrated touchscreen. It is also possible to call up service instructions at the monitor. Entertainment functions such as a 4 x 15 W audio amplifier, a digital sound system, an RDS world receiver radio (AM/FM) with weather band, and USB and additional AUX inputs round off this platform. What is more, MultiViu Media also possesses a number of camera inputs and permits over-the-air system updates. This saves time during maintenance operations.
The whole vehicle at a glance with the ProViu ASL360 and ProViu Mirror camera systems
Continental will also be presenting the ProViu Mirror and ProViu ASL360 camera systems. ProViu Mirror is an alternative to exterior mirrors. Two cameras are mounted on each side of the vehicle. Their recordings are transferred to two displays, one on the right and one on the left of the cabin. The camera pictures are therefore always located in the user's direction of vision. What is more, compared to conventional exterior mirrors, this technology significantly increases the visible area and maximizes driving safety and precision.
The ProViu ASL360 panoramic camera surveillance system provides a complete exterior view of the vehicle from the cab. This reduces risks of collisions when maneuvering, and other road users or obstacles are detected without fail. Several micro-cameras fitted on the outside of the vehicle capture the sides, the rear and the front of construction machines and trucks in real time by means of a super wide angle lens of more than 180° and high resolution. An electronic control unit merges these camera images in such a way that the driver gets a bird's eye view of his vehicle on a display in the cabin. The system - also available for retrofitting - not only offers safety benefits, it also guarantees more efficiency: it speeds up maneuvering and reduces loading and unloading times. By reducing the likelihood of accidents, downtimes and repair costs are also reduced.
Interior surface material for cabins is highly abrasion-resistant
The surfaces in the cabins of agricultural machinery have to put up with tough everyday conditions, be highly functional, long-lived and, above all, comfortable for the driver. The special surface material used by Continental for vehicle cabin interiors is therefore characterized by high wear-resistance, abrasion-resistance, color-fastness, non-slip properties and environmental responsibility. As visitors to Agritechnica will be able to experience for themselves: The cabin seat is covered with the versatile surface material Acella. It boasts excellent abrasion-resistant properties and is therefore particularly suitable for vehicle surfaces that are subject to high loads, such as seat surfaces and sides. The extremely robust, easy-to-maintain floor material also comes from Continental.
Bearing components for enhanced comfort
Continental's hydraulic bushings can be used to support the cabin. Thanks to the integrated fluid system, they provide greater driver comfort than can be provided with conventional bushings. The hydraulic damping noticeable reduces vibration. In actual use, the hydraulic bearings can withstand loads of 1,230 to 3,000 N. Another advantage of this bushing is that it can be rotated around its central axis. This simplifies maintenance operations at vehicles in which the driver's cabin has to be tilted.
Air springs for driver's seats create an ergonomic, comfortable workplace that reduces the risk of fatigue and occupational illness for drivers. The entire driver's cabin can also be mounted on air springs. These offer important advantages compared to steel springs: Thanks to the adaptation of the internal pressure in the spring, the seating height remains the same – even if drivers with different body weights use the vehicle. What is more, the properties of air springs make them very good as axle spring mountings and suitable for a range of accessory equipment for lifting, pressing and adjusting.
Intelligent air spring technology to control the height of the vehicle and accessory equipment from the cabin
Thanks to their innovative sensor technology, Continental's air springs can change their height electronically, monitor the internal pressure and measure the interior temperature. With these intelligent air springs, drivers are, for the first time, able to control the height of agricultural vehicles and accessory equipment electronically from within the cabin: The driver issues the instruction for the change of level via the vehicle's HMI (Human-Machine Interface) and the vehicle height is then adjusted by adapting the pressure in the air springs. As soon as the working conditions change, the system can react and compensate – for example to cancel out height differences resulting from an increasing load of harvested crops or uneven terrain out in the field. Users can move to different driving positions automatically. Potential problems are detected in real time and travel can be halted before any damage occurs. Another benefit: The cause of any problem can be determined precisely thanks to the recorded data. This simplifies repair work and therefore minimizes downtimes and costs for the customer.
With all these solutions, Continental is contributing to more efficient, cleaner and more comfortable mobility even away from the public highway and is delivering individual responses specifically tailored to the customer's needs – all from a single supplier. As part of its off-highway initiative, the high-tech company is placing the focus even more strongly on construction, agricultural and transport machinery and vehicles.
Contact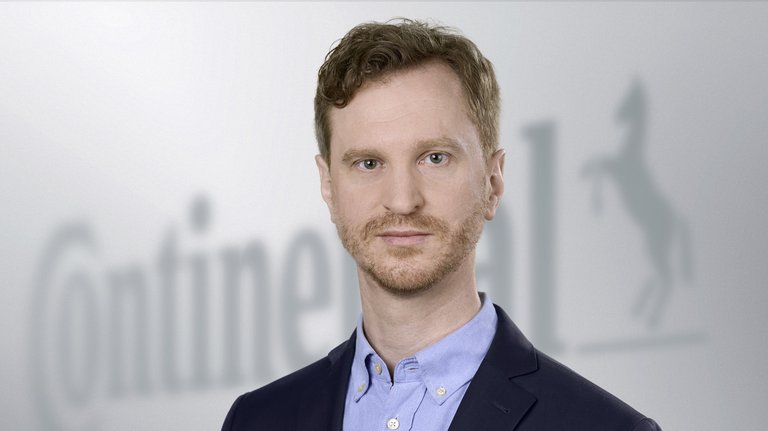 Oliver Heil
Media Spokesperson Smart Mobility