Press Release
September 11, 2018
The Continental AllSeasonContact
Premium all-season tire combines good handling characteristics on winter and summer roads with best fuel efficiency in its class
Continental continues to recommend appropriate premium summer and winter tires for maximum year-round safety
Hanover / Frankfurt, September 2018. With the AllSeasonContact, Continental is offering a tire for urban use in moderate weather conditions. For this all-season tire, Germany's leading tire manufacturer has come up with an innovative blend of tread design, compound, tire contour and construction. As a result, the AllSeasonContact brings a considerable improvement in the weaknesses previously demonstrated by tires intended for all-year use in terms of their winter and wet-weather performance. At the same time this tire also offers the best fuel efficiency in the premium all-season tire segment. Continental manufactures this tire in widths from 165 to 245 millimeters for 14 to 20-inch rims and approved for speeds of up to 240 km/h. As a tire that is also intended for use in the cold season, it bears not only the three-peak mountain snowflake symbol but also the M+S designation on the sidewall. On the EU Tire Label the new Continental tire is rated "B" for both braking in the wet and rolling resistance. From Continental's point of view, AllSeasonContact is particularly suitable for drivers who cover relatively low mileage in moderate weather conditions in and around town. For all other drivers, in the interests of maximum road safety Continental continues to recommend fitting tires that have been specially developed for the relevant season.

During development of the new AllSeasonContact, the focus was on good winter-driving characteristics, safe handling in all weather conditions and excellent fuel efficiency. Delivering the perfect balance between the various tire characteristics, this all-rounder with directional tread joins a long series of successful products in the Summer- and WinterContact family. For winter use, Continental's chemists have developed a silica compound with a high proportion of resins for good grip on cold and wet or snow-covered roads. The high proportion of silica ensures good adhesion on wet roads while the composition of the resins, originating from the Cool Chili technology of the WinterContact TS 860, make for good grip on snow-covered roads. This adaptive compound enables the new tire to match its adhesion to cold and wet or snow-covered roads – a key requirement for tires intended for use all year round.
The tread design of the AllSeasonContact also brings together proven elements of Continental's premium summer and winter tires which are renowned for their safety. By way of example, the directional tread has been adopted from the current family of winter tires. The open tire shoulders ensure good aquaplaning characteristics. And the rigid pattern of the tread surface with its low number of sipes ensures high precision handling and short braking distances on dry asphalt. These are characteristics more typical of summer tires, which also need to deliver high levels of safety in the wet. The outcome is a tire ideal for use in summer and winter conditions, especially in view of the fact that in Central European winters it rains one day in three.
In addition to its safe handling characteristics, the tire's construction has been designed to offer the best fuel efficiency in its class. This makes it particularly suitable for cost-conscious drivers who rarely need to drive in extreme weather conditions. To achieve this level of rolling resistance, the tire designers have created a perfect balance between material distribution, tire geometry and material thickness. A comparison of tread depths illustrates this point: While a typical winter tire has a tread depth between 8.5 and 9.5 millimeters, a typical summer tire now has between 6.5 and 7.5 millimeters. The basic rule here is that low tread depth also makes for high fuel efficiency. So with its tread depth of 7.5 to 8.5 millimeters, the AllSeasonContact sits right between the two specialists. When combined with the optimized sidewall geometry, this guarantees very low rolling resistance, helping not only to save fuel but also to ease the load on the environment.
Contact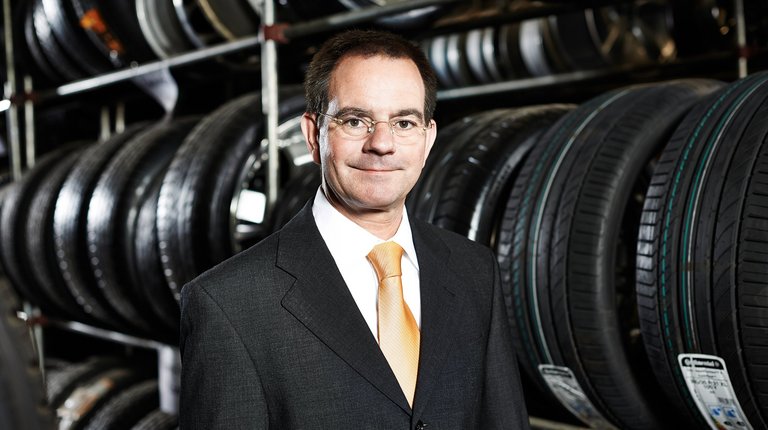 Klaus Engelhart
Press Spokesman
Passenger Car Tires / Germany, Austria, Switzerland