Press Release
September 17, 2018
No Automation without Orientation – Continental Develops Environment Model for Commercial Vehicles
Intelligent control unit creates a model of the vehicle environment from sensor data
Manufacturers receive the necessary components and subsystems from a single source
Versatile input: camera, radar and lidar, plus cloud-based data
Premiere at the IAA: Visitors can experience the environment model in virtual reality
Villingen-Schwenningen, September 17, 2018 – The technology company Continental is expanding its range of solutions for the Automated Driving of commercial vehicles. To this end, Continental is currently developing an environment model that captures the vehicle environment using various sensors. Reliable perception of the vehicle environment and its precise evaluation is a basic requirement for highly developed driver assistance functions and Automated Driving. The data from sensors such as camera, radar and lidar is combined with additional information such as the profile of the route ahead and collected, evaluated and interpreted by an intelligent control unit, the Assisted and Automated Driving Control Unit (ADCU). A complex and detailed environment model is then created from the resulting data. This model can be used to implement a wider range of advanced driver assistance functions, contributing to greater road safety. Visitors to the IAA Commercial Vehicles exhibition can see how an environment model works. In addition, various applications will be shown, including platooning and the right turn assistant. Continental anticipates increasing worldwide demand in the coming years for subsystems relating to Automated Driving. Its special focus will be on commercial vehicle manufacturers in Europe, North America and Asia.
Everything for environment recognition from a single source
"The environmental model complements Continental's portfolio of components and subsystems for vehicle environment detection. With our sensors, our applications for vehicle connectivity and intelligent control units for Automated Driving, Continental will in future be in a position to offer its customers everything they need for the reliable detection of the vehicle environment – from a single source", said Dr. Michael Ruf, Head of Continental's Commercial Vehicles and Aftermarket Business Unit just before IAA Commercial Vehicles. To achieve this, we have used our experience in Automated Driving functions for passenger cars, more than ten years of experience in sensor applications for driver assistance functions for trucks and our in-depth systems expertise." Continental has bundled the preliminary development for the environment model in its own project house for Automated Driving in the worldwide development center in Frankfurt am Main, in which experts from the passenger car and commercial vehicle sectors conduct joint research.
The customer has the choice – information can be configured in many ways
Continental offers various radar sensors and cameras for environmental detection. Its development engineers are working on a 3D Flash Lidar for passenger cars and commercial vehicles. The company is thus one of the very few suppliers on the market concerned with the technology involved with all three types of sensors. The advantage is that a combination of different sensors provides a more reliable and accurate view of the environment. Each sensor has its individual strengths and detects different environmental parameters. In addition to sensor data on other road users and static objects such as lane markings and traffic signs, more data also flows into the model by means of connectivity technologies for vehicle-to-vehicle (V2V) and vehicle-to-infrastructure (V2X) communication; HD maps and GPS, for example, provide exact positioning data about the vehicle. Systems like the dynamic eHorizon and traffic data from third-party providers can also take the entire traffic situation into account, such as a traffic jam up ahead or a mobile construction site. This creates a reliable image of the vehicle environment. Continental can flexibly respond to individual customer requirements and modify the system to determine which – and how much – information is included in the environment model.

The environment model is calculated by Continental's Assisted and Automated Driving Control Unit. This is a high-performance computer that meets the highest safety requirements (ASIL D). It also fulfills the hardware requirements for highly Automated Driving. The ADCU evaluates and interprets the acquired information – and creates an environmental model more than fifty times per second. It functions as software that links the information from the individual sensors and the various applications.
Only through this view of the vehicle environment (which is better than that of humans) can the truck orientate itself in its surroundings and make driving strategy decisions by recognizing possible driving corridors, for instance. Manufacturers can flexibly integrate the functionality into their overall systems.
Contact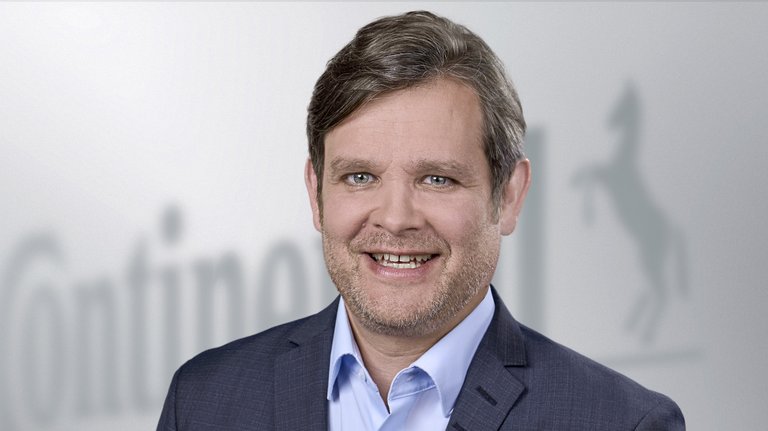 Christopher Schrecke
Media Spokesperson Smart Mobility