Press Release
November 01, 2018
What Is Changing in Tachograph Testing: The Five Most Important Tips for Vehicle Workshops
The digital tachograph is becoming smart. For commercial vehicle workshops this means that there are new requirements for tachograph testing. Five tips on the changes and how businesses can prepare for them.
In mid-2019, it will become mandatory for vehicle manufacturers to install smart DTCO 4.0 digital tachographs in all newly registered commercial trucks and vehicles whose maximum permissible weight exceeds 3.5 metric tons. That is when regulation (EU) no. 165/2014 and implementing regulation (EU) 2016/799 take effect. "This also involves changes in regular tachograph tests," says Michael Gut, Program Manager for Tachograph Service at Continental. "Essentially, three new steps are being added to the existing steps. New test devices are needed as well as extended qualification for new technologies." If anyone knows, it is Michael Gut, because Continental has not only been supplying vehicle manufacturers and fleet operators worldwide with tachographs for decades now, but it also implemented the necessary workshop concepts with national agencies and partners immediately after the new EU regulation was created. In many countries, the technology company also has the mandate of qualifying workshops for tachograph testing, and it offers all the necessary test equipment under its VDO product brand.
"For workshops the essential task is preparation," emphasizes Gut. "Those who equip themselves step-by-step for the regulations will have an easier transition – and they can also plan the necessary investments better." There is not much time left, because trucks with smart digital tachographs on-board will already be arriving at workshops starting in the first quarter of 2019.
Tip 1: Verify functionality of the DSRC interface.
In the future, trucks will have a DSRC (Dedicated Short Range Communication) antenna installed on the windshield. It is via this wireless DSRC interface that the smart digital tachograph transmits data to the actively querying DSRC reading devices, also known as beacons, of the inspection authorities. This enables them to conduct a check during driving and immediately detect any irregularities. This means that workshops must verify the functionality of the DSRC interface with a suitable test device during regular inspections. Stated simply: it tests whether remote inspection is even possible.
Tip 2: Check the functionality of the satellite receiver (GNSS).
An interface to a global navigation satellite system (GNSS) is also mandatory. By storing information on vehicle positions, the system makes it easier to check whether the inspection data are plausible. Therefore, one of the tasks of the workshop will be to check whether the tachograph's satellite receiver is operating properly. For testing on dynamometer test stands in enclosed halls, it is necessary to generate a stable satellite signal during the test using a repeater. Some test computers, like the VDO WorkshopTab from Continental, have options for verifying satellite reception of the test device via diagnostics and, in case of error, to determine the cause.
Tip 3: Re-seal the speed sensor.
The new regulation establishes a uniform sealing requirement, which, for the first time, will apply to all European countries. At each regular inspection, all workshops must check the mechanical sealing of the speed sensor for its integrity and – this is new – always re-seal it. In the future, the seals must be purchased from a certified supplier and bear a unique identification number. Workshops must also put these numbers on the installation plaque. All seals available today will become invalid.

Tip 4: Procure new test devices and invest in advanced testing equipment.
To test the DSRC interface, the workshop must procure a suitable system with DSRC technology that acts as the counterpart to the inspection authority's device. It will also need a GNSS repeater and an advanced test computer, which is equipped with the new testing and diagnostics technologies. Those who are still working with older test equipment for the first generation of tachographs should invest in new tester systems as soon as possible to become familiar with its handling, step by step. Necessary modifications and advanced developments for testing the DSRC interface can be made to existing devices in the field by means of an update. "A related software update for our VDO WorkshopTab is already in field testing, as is the DSRC Meter for checking the DSRC interface," explains Michael Gut of Continental.
Tip 5: Consider qualification and new workshop card.
Workshops that want to offer tachograph testing for trucks with the new smart digital tachographs must obtain qualification to provide this service. The same advice applies here: the sooner the better. Continental will soon begin its first training courses to prepare workshop personnel for the requirements of the future tests. Space can be reserved online at the VDO Academy portal for training courses being held in the last quarter of 2018. In addition, vehicle workshops have to remember ordering their new workshop card.
DTCO 4.0: The Smart Digital Tachograph
The tachograph regulation (EU) 165/2014 incorporates numerous functional extensions in device technology. The digital tachograph is becoming smart. Continental developed the DTCO 4.0 under its VDO product brand to meet the new statutory requirements. "The new tachograph offers even better protection against manipulation as well as greater transparency in the operative area," says Dirk Gandras, Program Manager TTS Vehicle Units at Continental.
The EU guidelines specify standardized DSRC (Dedicated Short Range Communication) technology for an integrated remote control mode. To enable more specific vehicle inspections, the DTCO 4.0 transmits certain data from the moving vehicle via a DSRC antenna installed on the windshield, and this data is received by inspection authorities who are equipped with a corresponding reading device. In addition, there is an interface to a global navigation satellite system (GNSS). In the future, this will be used to automatically record position data, which can also be used to assist in fleet management.
Also new is an ITS (Intelligent Transportation Systems) interface, which can help fleet operators boost efficiency and provide a wide range of information from the digital tachograph via a standardized interface.
Contact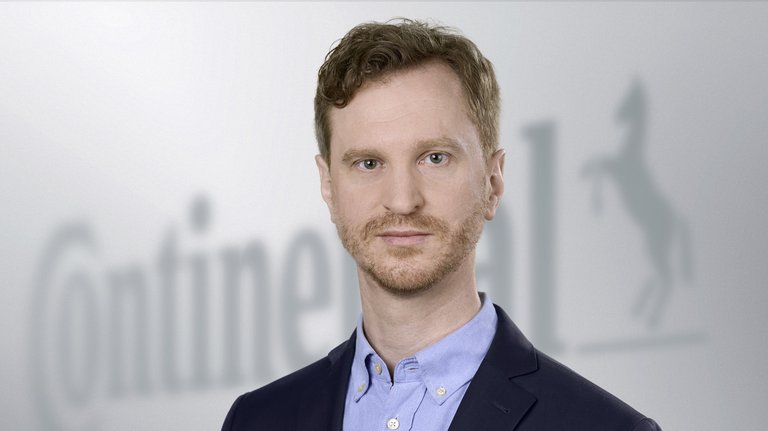 Oliver Heil
Media Spokesperson Smart Mobility