Press Release
February 06, 2019
Digital Supply Chain: Continental Wins VDA Logistics Award 2019
Continental impresses the jury with an integrated and modern supply chain concept for risk and allocation management
Cloud solution with intelligent algorithms for real-time supply chain analysis
Continuous digital monitoring of capacity risks in cooperation with the supplier
The VDA Logistik Award recognizes logistics projects that serve as role models for the entire industry
Regensburg/München, February 6, 2019. Continental has won the 2019 VDA Logistik Award, impressing the jury with its solution for integrated risk and allocation management. Not only are vehicles becoming increasingly connected and communicating with each other and their environment, Continental's increasingly complex supply chains are also benefiting from digitalization. Intelligent supply chain management allows even more strategic coordination of the supply network and helps to, for example, identify and avoid raw materials bottlenecks at an earlier stage and process them much more effectively. With "Supply Risk Management 4.0", Continental has developed a concept that significantly reduces supply risk.
The company is using a cloud solution with intelligent algorithms that enable risk management experts to quickly identify whether material supply failures could cause bottlenecks. As a result, countermeasures such as the redistribution of stocks or production programs can be taken in good time and customer delivery disruptions avoided. The lead time to information in the event of possible delivery disruptions is also significantly shortened – from days to hours. In addition, this solution facilitates integrated risk management for component supply and serves as a fully integrated interface between Continental and its suppliers. Risk prevention is supported by advanced methods from the field of data analytics (data mining, descriptive and predictive analytics, alerts) and the use of big data and cloud technology.
"Thanks to Risk Management 4.0, our vision of the digital supply chain is becoming a reality. With our connected supply chain, we can achieve greater efficiency and security and react flexibly to increasingly complex conditions," explains Jürgen Braunstetter, Head of Automotive Supply Chain Management at Continental. "I am very proud that the entire Continental team impressed the VDA Logistik Award jury with their extraordinary performance."
Bernhard Mattes, President of the German Association of the Automotive Industry (VDA), speaking at the award ceremony during the Automobile Logistics Forum in Munich: "The VDA Logistik Award honors logistics projects that serve as role models for the entire industry and show how automotive logistics makes a decisive contribution to the success of our industry. With their concept, this year's award winners have provided an exemplary demonstration of how rapidly the automotive industry is advancing in digitalizing its supply chain. The winning concept is testament to what digital, connected Supply Chain Management 4.0 can achieve."
Continental is already achieving significant results with the new concept. In addition to greater process transparency and early notification of any supply bottlenecks, the concept has helped to save costs in the supply chain. "Customer satisfaction is our top priority," explains Petra Becker, Vice President of Supply Network & Supply Chain Risk Management at Continental. "With this concept, we can identify supply bottlenecks at an early stage so that we can intervene proactively and instantly make global statements regarding the delivery situation." The sustainability of the value chain is also increasing: special deliveries, production downtime and capacity adjustment costs are avoided, while at the same time Continental employees can use real solutions in the digital world.
The fact that Continental is on the right track regarding the digital transformation of all corporate divisions is also demonstrated by its "Digital Transformer of the Year" 2018 award, which the Vogel Communications Group and _MEDIATE presents to pioneers of digital transformation. "The award placed special emphasis on the "Fast Forward 2030" vision, whereby we are advancing the digital transformation of supplier management away from a supply chain and toward an autonomous supplier network," explains Braunstetter.
Contact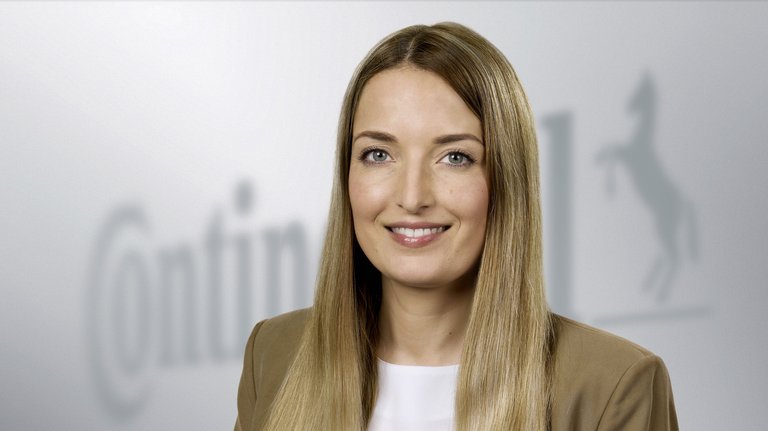 Alena Liebram
Media Spokesperson and Topic Manager User Experience