Press Release
July 20, 2020
Recreational Vehicles More Popular Than Ever
Coronavirus restrictions are transforming vacations
Renewed thirst for freedom, independence and individuality

Special-purpose vehicles need special-purpose tires
Driver safety training strongly recommended for RV newcomers
Hanover, July 2020. The COVID-19 pandemic is driving a transformation in vacation planning compared to previous years. Many people are staying home. Others are trying something new. Among those feeling the benefit are the manufacturers of recreational vehicles (RVs). In Germany alone, the Federal Motor Transport Authority reported 10,500 new registrations in the month of May – an increase of 29 percent year-on-year. At the same time, the number of people converting a van or VW bus into their own customized RV is on the increase. In effect, recreational vehicles have come to stand for a new mobile lifestyle. It's a trend also reflected on social media: Instagram lists more than 7.5 million posts under #vanlife. But in view of the very real differences between the handling of a recreational vehicle and that of a typical passenger car, and since the shape and load of RVs also affect their dynamic stability, choosing the right tires is particularly important.
While many of the more popular models can basically be run on car tires, as a tire manufacturer, Continental advises against this. Special-purpose van tires offer real advantages for vehicles such as the T4 or T5 from Volkswagen or Mercedes-Benz Vito or V-Class models – particularly when fully laden. Along with greater reserves of safety, the benefits include superior cornering stability and lower wear. The more robust design of these tires also makes them a better match for the transition from periods of mobility to standing stationary. The fact is that on longer freeway trips with the vehicle fully laden, conventional car tires show a marked increase in temperature. Then, when parked at their destination, as the tires cool they can be subject to deformation in what is known as the "flat spot phenomenon".

One such special-purpose van tire is the Continental VanContact which was launched last year. Along with reduced rolling resistance for maximum efficiency and low fuel consumption, the VanContact offers top handling performance in all driving situations, even under heavy loads, plus maximum safety through short braking distances on both dry and wet roads. For drivers who want to travel outside the summer season but don't want the expense of an additional set of special winter tires, there are all-season tires for the recreational vehicle segment too. In the all-season tire test conducted by AutoBild reisemobil in 2020, the VanContact 4Season from Continental was ranked best-in-test and rated "exemplary". This tire offers year-round efficiency through reduced fuel consumption, as well as good braking performance on wet, muddy and snow-covered roads, and outstanding handling and braking on dry asphalt.

For full-size recreational vehicles, tire buyers should look for the CP symbol on the sidewall. CP stands for 'camping pneus' and confirms that the tire complies with the Camping Pneus standard which was specially created for the development of RV tires. Tires developed to the CP standard take account of the special requirements that result from the specific weight distribution of recreational vehicles. They can also cope with the unequal loads resulting from the position of the water tank, for example. Compared to conventional tires of the same size, they can take far higher pressures on the rear axle and offer similar performance under loads up to 300 kg higher. The specialist for this segment is the Continental VanContact Camper, designed for all-season use. On dry roads it ensures short braking distances, enhanced handling and greater vehicle stability thanks to its good steering response. In the wet it delivers safe braking and effective protection against aquaplaning. Anyone who enjoys winter camping in their RV will appreciate this tire's outstanding grip, braking and handling performance on snow-covered roads.
And by way of an extra safety accessory for special-purpose van and RV tires, Continental always advises using robust metal van-tire valves. The experts also recommend that newcomers to the van or RV scene and anyone who drives these vehicles only rarely should attend a special driver training session.
Contact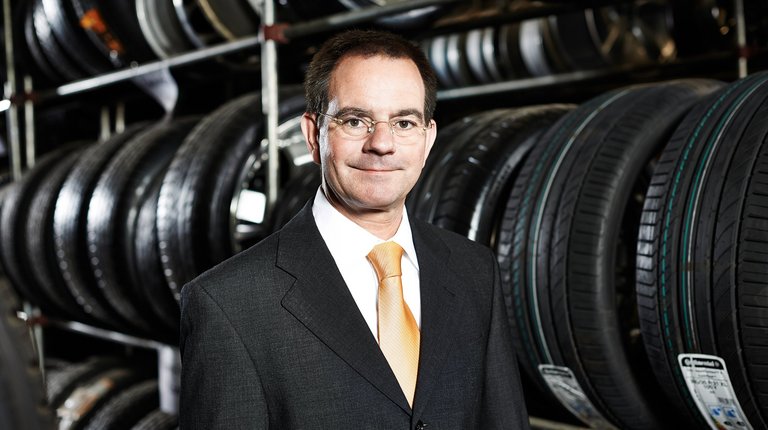 Klaus Engelhart
Press Spokesman
Passenger Car Tires / Germany, Austria, Switzerland