Press Release
September 24, 2020
Interview with Alejandro Agag, CEO of Extreme E
New racing series generates more attention for the planet
All races will be broadcasted live online and on TV worldwide
Continental is the exclusive tire supplier for the entire series
Hanover, Germany, September 2020. Continental is a founding partner and, as of 2021, the premium sponsor of the Extreme E series. The technology company will equip all vehicles in the races with tires for the various events, which will all prove very challenging.
In this interview, Alejandro Agag, CEO of Extreme E and Formula E, talks about the special fascination of the new format. He talks about the beginnings and the social aspirations of the innovative E-SUV series, but also about the partnership with Continental and the extraordinary importance of tires.
Continental: Alejandro, you have been a permanent fixture in motorsport management for many years and were involved in both Formula 1 and Formula E without ever actually having been active as a driver. How did you get involved in the world of racing and why are you still there?
Alejandro Agag: I come from a totally different world, the world of politics then business, but I got into motorsport almost by chance. I had a couple of friends who were in motorsport who I knew for years, Flavio Briatore and Bernie Ecclestone, and they invited me to join the world of racing. I started working on the TV rights in Spain for Formula One with Fernando Alonso, I know that was a revolution for Spain in the world of motorsport. I fell in love with racing, so I bought my racing team in GT2 and I continued from there. So it's really by chance I found my true passion.
Continental: You are the founder and CEO of the new "Extreme E" racing series. You want to use motorsport to draw the attention of people and governments around the world to endangered habitats and climate change. How do you plan to do that?
Alejandro Agag: Extreme E has a really ambitious target, which is to raise awareness and to sound the alarm for what's going on in these locations. We plan to do that by taking an electric car race to the most endangered and damaged corners of the planet, to showcase the harm that is being inflicted in those places that sometimes don't get any attention. We cannot really be serious about taking measures to fix it unless we realise what's going on. So the first step is raising awareness and that is what Extreme E wants to do, but not only that Extreme E wants to go beyond and also take action, even if it's a small action, to show that any activity counts and we will be doing specific things to counteract climate change in every one of those places.
Continental: If we ignore social aspirations for a moment, how will the competitions of the new racing series differ from conventional motorsport events?
Alejandro Agag: I think Extreme E will be a race like no other. First of all men and women are fighting together as teams and we haven't seen this before in motorsport. It will be a race with incredibly powerful cars with amazing acceleration, very high performance machines which are electric and going off road – another world first - so it's a format that is going to be very informative, and it's more of a revolution in the world of off road racing.
Continental: The concept stipulates that all teams start with the same vehicles, which have been specially developed for this racing series. Test pilots such as Mikaela Åhlin-Kottulinsky, who is testing for the tire supplier Continental, are very excited. What makes these vehicles so special?
Alejandro Agag: The vehicles are designed for extreme performance, they are incredibly powerful for their weight so if you think of a normal car that fights for the Dakar for example, the weight is over two tonnes and they have maybe 300 horsepower. Here we are talking about almost double that power but less weight at 1.6 tonnes, so you can imagine what kind of acceleration and performance this car can deliver. So, this makes it the perfect machine to showcase electric technology in every kind of environment.
Continental: Developing the vehicles and tires, planning the logistics and finding sponsors all takes a very long time. When and how did your plans for "Extreme E" begin and when did your thoughts start becoming less abstract and more concrete?
Alejandro Agag: We started planning Extreme E around three years ago. I was going around in circles in my mind thinking of what to do after Formula E that could have a bigger link with the cars on the street and that could also have even more meaning and link to the fight against climate change. I started brainstorming and talking with a friend Gil de Ferran, former Indy 500 champion, and came up with this idea of going to extreme places to do the races, which I think is the genius idea of Extreme E - it's not my idea sadly, it's Gils.
We started working on the project and the first thing we did was buy the RMS St. Helena because we knew that we needed a specific ship for this project, so we did that around three years ago and then we started building everything else for the championship. About two years ago we really started pushing and now we are not far away from the first race.
Continental: How difficult was it to get sponsors and potential drivers excited about the idea?
Alejandro Agag: It's never easy but I have to say this is a very exciting idea and it's not difficult to get people engaged because the idea is so strong and powerful that people immediately fall in love with it. So, we've been very lucky to have Continental joining us very early on, and CBMM and Luisaviaroma. We are having a lot of conversations and we will be announcing some more partners very soon.
Of course, Covid has slowed everything down but it doesn't matter as we have really pushed through. We have done a huge number of announcements during this period that show we are keeping the momentum going. Like I say the idea is so strong it's not so difficult to get people to fall in love with it.
Continental: Continental is the exclusive tire supplier for the entire series. At first glance, this does not seem to be absolutely necessary because the Hanoverians have not been involved in motorsport in recent years, although they undoubtedly have the expertise to do so. Why is Continental the ideal partner for the "Extreme E" series and how did you convince those responsible?
Alejandro Agag: We love the partnership with Continental, it was right at the beginning it joined us as almost a founding partner. This is because we share the same vision of the world, what's going on in the planet and trying to go the right way about fighting all the different challenges we have in front of us to support society, which is very important and that's why we matched so perfectly. Also, Continental has great technology that's going to allow us to have great tires for these machines, and tires are a key part of the whole competition obviously so it's a perfect partner for us.
Continental: In other racing series, the tires regularly play a key role in the fight for a podium place. How important are the tires in the "Extreme E" series?
Alejandro Agag: Tires are always very important in any championship, but even more so for a championship like Extreme E, where we are going to be racing on different surfaces from rocks to sand, to grass to ice and snow. So it's going to be very challenging for these tires, so we need a tire that can cope with everything, that is not going to fail you and is going to allow these machines to show their true performance, and I think that is what we have with Continental.
Continental: Originally, the vehicles were supposed to be handed over to the teams in the summer. The starting signal for the first race was scheduled for the beginning of next year. But then the coronavirus spread like wildfire all over the world. How did the pandemic change your plans?
Alejandro Agag: It hasn't affected too much luckily, it has just slowed us down a little bit. We had a few delays in the shipyard with the RMS St. Helena and the factory in France where the cars are produced, so we will be delaying the beginning of the season by a couple of months, but it hasn't affected that much.
The project continues and everyone is committed, everyone is pushing and of course Covid has been a really big problem and tragedy for many people around the world, and we still need to be very careful but if you think about Extreme E, it has no spectators so it's almost a Covid resistant project. We didn't know there was going to be Covid obviously when we started Extreme E but going to the arctic and the amazon, we don't expect people to show up.
Continental: So far, very little is known about the field of drivers. It is worth noting that the names of both men and women are currently in the mix. Can you please tell us something about the planned composition of the teams and perhaps also reveal the names of some drivers?
Alejandro Agag: We will try to keep the teams on-site very small as we want to keep cost control for the championship but also, we want everything to fit on the ship. The teams will have only five members plus two drivers, one man one woman, and those five members will be engineers and mechanics, but that's the limit for a team.
We are hearing a lot of names of drivers that are associated with the championship, but we have our ambassador Sebastian Ogier and we've been talking to many other drivers. I don't want to say names because that would betray the confidentiality of the conversations, but there are some really big names that could be associated with the championship, I really hope. We think during the fall we will see a lot of announcements of drivers happening and then everyone will race in March.
Continental: It is quite unusual that nobody will be able to buy a single entry ticket for the "Extreme E." Your concept does not cater for spectators at the track. Are you not afraid that the atmosphere so typical of other racing events will be missed and that this will have an adverse effect on the general level of acceptance by the global motorsport fanbase?
Alejandro Agag: This is a different concept, a different type of motorsport, so it has actually been conceived not to have spectators so I don't think anybody will miss the spectators in this specific kind of sport. There are no crowds in the arctic ice cap, in the rainforest, in the amazon, maybe some locals will show up and watch from the hill or from a tree but that's it.
The problem is when you have a sport that is supposed to have spectators and doesn't like Formula 1 or Formula E, there they will be missed a lot, but in Extreme E no because the event itself has been created without spectators.
Continental: How can fans follow the races?
Alejandro Agag: The competitive action will be broadcast live on the Saturday and Sunday of each race weekend. The races will be shown both on online channels and on conventional TV.
So far confirmed broadcast partners are Eurosport (Europe and North America), FOX Sports (United States, Canada, and the Caribbean), BBC (UK, online channels), FOX Sports Asia (Southeast Asia), ZHIBO (China), FOX Sports Australia, Mediaset (Italy), Sony India (Indian subcontinent), TVNZ (New Zealand), RTM (Malaysia), Dubai Sports (Middle East), Fox Africa (African continent), RDS (Canada), RTL7 (The Netherlands and Luxembourg), ORF (Austria) and BTRC (Belarus), with more to be announced.Fans can also follow all the action on social media.
Continental: Recently there was talk of so-called virtual hospitality packages being available for each race. What can we expect to see here exactly?
Alejandro Agag: Virtual hospitality is incredibly interesting, it's a great concept that the team came up with and I think to bring great hospitality to peoples homes you need to offer premium access and the opportunity to be able to see behind the scenes as well as tailored content specifically for them so they feel they are one step closer to the event than everyone else watching on TV. You can send merchandise to the homes and even a chef to prepare special food, and one of the brands associated with us could take them for a spin in an electric car around their homes or in their city. There are many things you can think of with virtual hospitality, and we are very excited about it.
Continental: And finally, going back to the social significance of the "Extreme E" racing series, you were actually active in politics and a Member of the European Parliament from 1999 to 2002. Do you think that you will now end up achieving more to protect the environment through your involvement in motorsport than you could ever have done as a politician?
Alejandro Agag: Well, that's a very interesting question and probably you can do a lot in both places. You can do a lot in politics and probably if you get to a high enough position that's where you can do more, but you can also do a lot from business. That's what we're doing and we will need to act as a business if we want to do something about climate change. So you can do a lot from business and I'm on that side now and I'm very happy. Maybe I could have done the same from politics, or more, but really both are important and it's important they work on the same direction.
Contact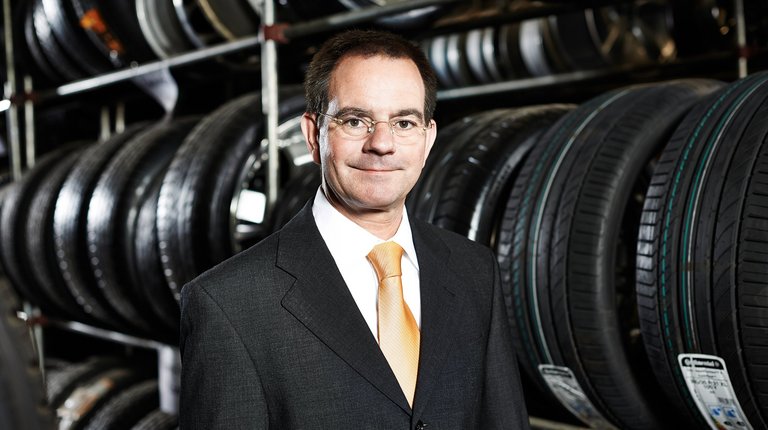 Klaus Engelhart
Press Spokesman
Passenger Car Tires / Germany, Austria, Switzerland