Press Release
October 22, 2020
Founding Partner Continental Welcomes Nico Rosberg to New Extreme E Race Series
Formula 1 World Champion sets up his own team: Rosberg Xtreme Racing (RXR)
Race series kicks off in early 2021
Continental providing specially developed tires for ODYSSEY 21 electric racers
Hanover, October 2020. With just a few months to go before the start of the spectacular new Extreme E off-road racing series, the organizers are gradually lifting the covers on the teams that will be taking professional motor racing in electric SUVs to the furthest corners of the planet. Only recently, none other than reigning Formula 1 World Champion Lewis Hamilton announced that his newly founded Team X44 would be entering the fray, and now with Nico Rosberg, Extreme E can proudly present another prominent name from Formula 1. Like Lewis Hamilton, Nico Rosberg is in the process of founding his own motor racing outfit, team Rosberg Xtreme Racing (RXR). Explaining why he has made this commitment to Extreme E, the 2016 F1 World Champion says, "We are thrilled to unveil Rosberg Xtreme Racing as the latest addition to Extreme E. The series represents an amazing opportunity to not only drive awareness but also inspire action in the fight against climate change - the single biggest threat to our planet today. Since retiring from F1 I have dedicated my career to sustainable technologies so to be able to combine these endeavours with my passion for racing is incredibly fulfilling." And indeed, the hallmark of Extreme E is its choice of venues in the immediate vicinity of endangered habitats. In this way, the series aims to draw the attention of motor racing fans around the world and of politicians, local people and the authorities at the venues to climate change, and encourage them to redouble their efforts to restrict global warming to 1.5°C.
As a Founding Partner and major sponsor of the race series, Continental too is delighted at this big-name addition to the line-up. "The ever-growing level of interest in Extreme E only goes to show that the new series is very much in tune with the times," says Sandra Roslan who is responsible for the Extreme E project at Continental. "It's becoming more and more evident that we have kicked off something that grabs the attention, opening up an opportunity to win the hearts and minds of many people for a responsible approach to our environment. That makes Continental proud and happy. Nico Rosberg is not only a great champion racing driver; his activities off the track also make him a very authentic partner for the series."

In 206 Formula 1 races, this iconic racer scored 23 victories and 57 podium finishes. After retiring as reigning World Champion, Nico Rosberg became involved in the FIA Formula E championship as an investor and, in view of global warming, called for Formula 1 to switch to electric race cars. He is a co-founder of the Green Tech Festival, which is designed to provide a global platform for pioneering green technologies in the fields of mobility, energy and lifestyle. He is also a partner in Team Rosberg Engineering (TRE). Together with Schaeffler Paravan Technology, TRE won the 2019 German Mobility Award for the development of the Schaeffler Mover – a compact and highly maneuverable electrically powered mobility concept, capable of autonomous driving.
Along with Nico Rosberg's Team Xtreme Racing and Lewis Hamilton's Team X44, seven other teams have announced their involvement. They include the famous US IndyCar teams Andretti Autosport and Chip Ganassi Racing, the Spanish QEV Technologies project, and British-owned Veloce Racing, co-founded by current Formula E Champion, Jean-Eric Vergne. Plus Team Techeetah from Asia. With ABT Sportsline and HWA RACELAB, two teams from Germany will also be among the contenders when the series begins next year.

All the teams will start the races with identical technical equipment: an SUV by the name of ODYSSEY 21 equipped with 37-inch CrossContact Extreme E race tires from technology group Continental, specially developed to put the car's 544 hp reliably onto the track regardless of the conditions.
Contact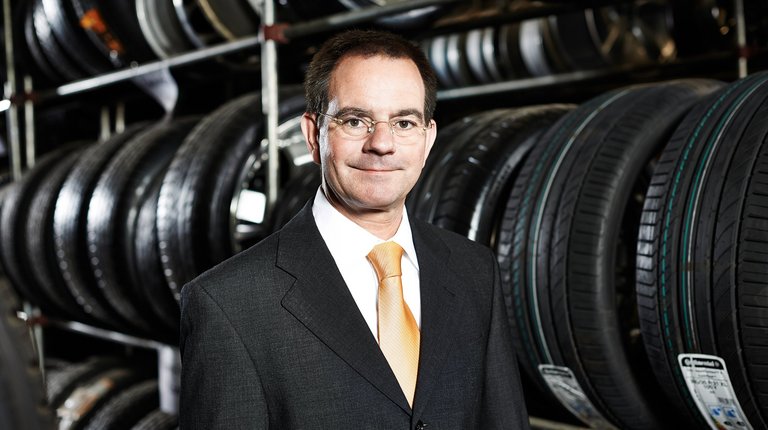 Klaus Engelhart
Press Spokesman
Passenger Car Tires / Germany, Austria, Switzerland