Press Release
August 18, 2022
Continental high performance for the BRABUS 820
Luxury tuner trusts in SportContact 7 high-performance tires from Continental
Tire for Porsche 911 Turbo S-based BRABUS 820 approved for up to 340 km/h
Hanover, August 18, 2022. From exposed carbon-fiber aerodynamic elements to a sport exhaust system, tuning house BRABUS is now offering an exclusive program of refinements for the latest, 992-generation Porsche 911 Turbo S in Cabriolet and Coupé form. And BRABUS has also added SportContact 7 high-performance tires from Continental – approved exclusively for speeds of up to 340 km/h – to the mix.
Maximum speed thanks to high performance from Continental
With 820 horsepower and 950 Nm, the Porsche 911 Turbo S-based BRABUS 820 accelerates from 0 to 100 km/h in just 2.5 seconds, and the top speed of the luxury high-performance supercar is an electronically limited 340 km/h. Figures at this elevated end of the spectrum require a tire that can withstand the centrifugal forces at play and make the most of the car's performance. That's why the SportContact 7 tire from Continental has been specially approved up to this maximum speed for the BRABUS 820. The high-performance tire with BlackChili compound delivers driving pleasure of the very highest order and consummate handling on both wet and dry surfaces. The summer tire comes in 255/30 ZR 21 format for the front axle and 335/25 ZR 22 for the rear. Forged Monoblock Z "PLATINUM EDITION" wheels from BRABUS – available in various sizes – reinforce the sports car's wedge shape.
Testing the BRABUS Masterpiece promise
Before the new BRABUS 820 could be registered for road use, the quality and performance of the supercar were put to the test under the watchful eye of BRABUS CTO Jörn Gander and with Porsche Supercup driver Lance David Arnold at the wheel. At the Racepark Meppen circuit in Germany, the team carried out performance evaluation and validation of a wide range of aspects, such as handling and tire behavior. "We worked closely with BRABUS to approve the SportContact 7 up to 340 km/h, specially for the BRABUS 820. The car was able to demonstrate its impressive performance capability with our tires around the tight and twisty circuit, and posted outstanding results across all categories," reported Michael Schneider, Head of Tuning at Continental.
For more information on the test session and to see the BRABUS 820 in action, check out the tuner's YouTube channel. The entertainment for sports car fans will continue at the exclusive BRABUS Tuning Day taking place at Continental's proving ground, the Contidrom, on August 20, 2022.
Contact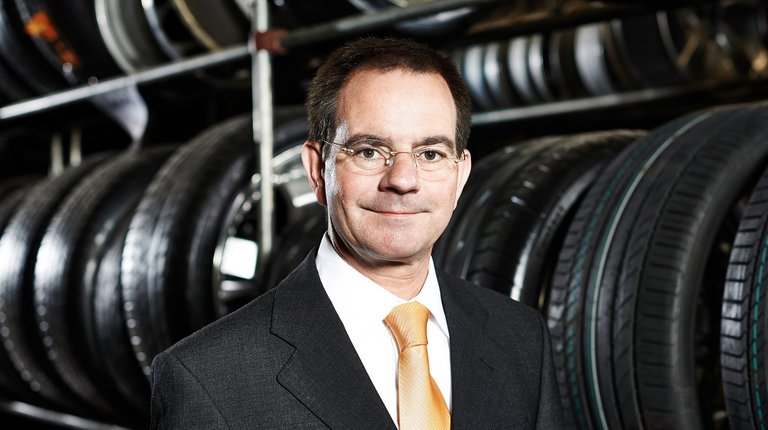 Klaus Engelhart
Pressesprecher
Pkw-Reifenersatzgeschäft
Deutschland, Österreich, Schweiz