Press Release
December 12, 2013
German Motorists Want Automated Freeway Driving
Majority enjoy driving but rising traffic density is increasing stress
Advanced driver assistance systems enjoy tremendous popularity
Buoyed by positive experience with advanced driver assistance systems, acceptance of automated driving on the rise
Guarded expectations as regards market availability but realistic price estimates
Many of those surveyed already harbor wish to use travel time for other things
Hanover, December 12, 2013. Motorists in Germany are principally open to automated driving. A clear majority of those queried in the "Continental Mobility Study 2013" regard technology of this kind as a good idea on freeways in particular: 76% opt for using it on long trips and 70% for using it in traffic jams on the freeway. Those surveyed considered it less relevant for routine driving (27%), city driving (39%), and driving on non-divided highways between towns (36%). When asked when they themselves would want to use the technology, German drivers specified they would like to be driven through roadwork on the freeway (69%) and traffic jams (54%) and would like to have their cars park themselves in parking garages.
These preferences tie in perfectly with the information given by those surveyed regarding their everyday traffic experiences. For them, Germany's rising traffic volume means increased stress (67%). The chief causes of this stress are gridlock and confusing driving situations: traffic jams and stop-and-go situations (63%), congested roads (51%), hunting around for a parking spot (49%), and driving through roadwork on the freeway (47%). Nevertheless, most motorists in Germany (67%) still like to have their hands on the wheel and place trust in their own driving skills (63%). Only a minority are completely averse to driving (9%).


"The needs of German motorists match up perfectly with the development possibilities in the upcoming years. Indeed, partially automated vehicles will initially be able to navigate through roadwork and traffic jams on the freeway; up next is the ability to park on their own in parking garages," said Dr. Elmar Degenhart, chairman of the Continental Executive Board, speaking on Thursday in Hanover on the occasion of the publication of the study. "What's more, the results illustrate that the successful introduction of advanced driver assistance systems worldwide, combined with the direct customer benefits derived from these, has paved the way to the acceptance of automated driving."
For the "Continental Mobility Study 2013," the international automotive supplier Continental had the market and social research institute infas conduct a representative survey among motorists in Germany, the U.S., Japan, and China, and a qualitative survey in France, India, and Brazil. Interviews were, moreover, also carried out with experts from science (traffic psychology, law) and the automotive industry. This makes the study one of the most comprehensive of its kind worldwide looking into the acceptance of advanced driver assistance systems and automated driving.
More than half of all motorists were already involved in an accident while at the wheel
The study also yields shocking results as regards accidents. By their own account, 59% of all German motorists have already been involved in an accident, with rear-end collisions the most frequently cited type of accident (44%). "Emergency brake assist systems are already available for all vehicle classes. They can prevent many cases of rear-end collisions. Initial insurer rebates for vehicles equipped with emergency brake assist systems and consumer tests – like Euro NCAP – have lent enormous momentum to the market for advanced driver assistance systems. Such systems can thus be expected to make ever deeper inroads into all vehicle classes in the future," noted Frank Jourdan, member of the Continental Executive Board and head of the Chassis & Safety division, commenting on the results of the study.
Advanced driver assistance systems enjoy great popularity
The increasing industrialization of advanced driver assistance systems since the turn of the century has, in the meantime, made it possible to reduce the cost of the requisite technology – i.e. environmental sensors like cameras, radars, and lidars – to such an extent that these systems can now be offered in all vehicle classes.
The results of the "Continental Mobility Study 2013" clearly demonstrate this democratization effect: Convenience-oriented advanced driver assistance systems such as parking sensors and cruise control now enjoy usage rates of over 50% in Germany. 90% of the German motorists surveyed feel these systems are a big help to drivers.
Apart from electronic stability control (ESC), which 62% of motorists claim is already in their vehicles (according to the DAT-Report 2013, 86% of new vehicles are so equipped), the utilization rate for safety-oriented advanced driver assistance systems such as lane departure warning and emergency brake assist are a lot lower.
Nevertheless, close to one out of every ten drivers in Germany already allows electronic safety escorts to protect them from rear-end collisions and unintended lane departures. In total, almost all motorists in Germany (92%) consider advanced driver assistance systems helpful.
And a glance at how acceptance levels correlate with driver characteristics such as age, vehicle class, miles driven or driver type, for instance, indicates that such factors do not play a significant role. "There is no such thing as the typical user of advanced driver assistance systems. The acceptance of advanced driver assistance systems is thus not a factor of age, miles driven, driver type or vehicle class," explains Jourdan.
Automated driving well-received by those who value advanced driver assistance systems
Generally speaking, automated driving is no longer common coinage merely among automakers' and automotive suppliers' development engineers. More than two-thirds (67%) of German motorists had already given thought to the topic before and over half of them (53%) even see it as a useful development. At the same time, the results of the study show that automated driving is not yet as familiar to people as advanced driver assistance systems.
It is an unsettling development for half of all German motorists (52%), with 48% skeptical as to whether automated vehicles will even function reliably. The results of the study do also reveal, however, that the greater the acceptance of advanced driver assistance systems, the greater the acceptance of automated driving. "Experience with advanced driver assistance systems has a positive effect on the way people see automated driving. People who have themselves had a chance to experience the reliability of emergency brake assist in their own car do not question the true feasibility of automated driving," explained Christian Senger, head of automotive electronics advanced development at Continental. Acceptance for automated driving and advanced driver assistance systems also correlate in that neither of the two appeals to one specific type of motorist.
Guarded expectations for availability and realistic price estimates
Half of all motorists in Germany reckon with the availability of partially automated vehicles – where the driver must still constantly monitor the traffic situation – by 2020. They feel that German premium manufacturers in particular have what it takes to bring automated driving to the road.
As part of the study, those surveyed were also able to express their expectations regarding the price of individual features. On average, they feel €2900 is a fair price for fully automated freeway driving technology, €1900 for freeway traffic jam technology and €1700 for technology enabling automated parking in a parking ramp. This works out to between 6% and 10% of the average price of a car at present (Source: POLK 2013).
"German motorists have a realistic idea as to price. What's more, they will be able to use partially automated driving features earlier than they expect," said Senger, commenting on expectations for the price and availability of partially automated driving features.
Contact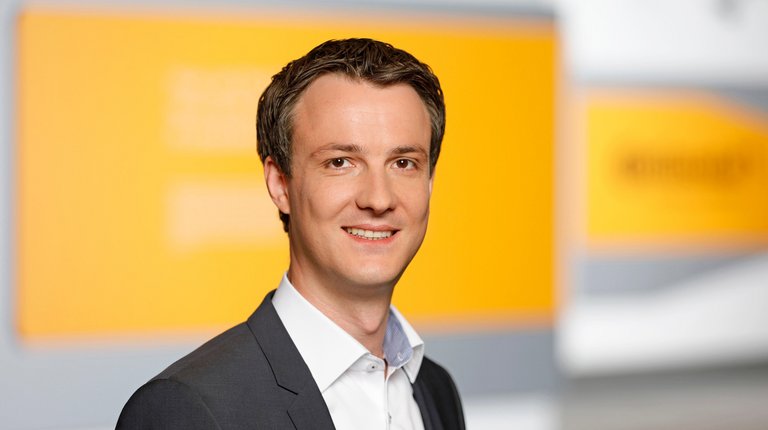 Vincent Charles
Head of Media Relations