Press Release
September 06, 2017
Continental Presents the Latest Technologies for Safe, Clean and Affordable Travel and Stress-Free Arrival
IAA 2017:

Automated and autonomous driving – development platform CUbE and concept vehicle BEE for mobility in the stress-free city of the future
Electrification – AllCharge charging technology, highly efficient drive components and super-clean electrified diesel
Connectivity – the cockpit of the future and the intelligent door
Hanover/Frankfurt, September 6, 2017. At this year's International Motor Show Germany (IAA) in Frankfurt, Continental is focusing on the topic of safe, clean and affordable travel and stress-free arrival. The technology company is appearing at the IAA (hall 5.1, A08) under the slogan "Making Mobility a Great Place to Live." At the trade fair, Continental is presenting the latest solutions from three innovation streams – assisted and automated driving, electrification and connectivity. The booth resembles a large city plaza with three promenades. Here, visitors can wander around the technology company's innovations. On the plaza itself, an interactive presentation makes it possible to travel through time to the stress-free urban mobility of the future. In the New Mobility World section in the outdoor area of the trade fair, visitors can finally experience automated parking at the touch of a button.

"In the last century, our cities and living spaces were dominated by the needs of car traffic in particular. Now, in the 21st century, the needs of people have increasingly become the focus of mobility. This can be seen in the vehicles of the future, in which offices and living rooms merge into an innovative and completely individual living space on wheels. With our solutions, we want to show people how intelligent and connected mobility will afford them a level of freedom that has not been possible in day-to-day life until now," said Continental CEO Dr. Elmar Degenhart in the run-up to the trade fair.
Assisted and automated driving innovation stream – relief for cities
In an interactive presentation, visitors to Continental will experience how Continental's team of developers visualize the safe, clean, intelligently connected and affordable mobility of the future. With the help of virtual reality goggles, they will experience the vehicle concept BEE (short for Balanced Economy and Ecology mobility concept). The BEE, with its perfectly developed flocking behavior, is part of an entire mobility family in the urban environment. Designed for one or two adults, it provides stress-free, comfortable and individual city travel in Continental's future scenarios. The BEE reaches a speed of 60 km/h and is in use for more than 350 km every day. Later, it is intended to be part of a swarm of autonomous, electrically operated vehicles in different sizes and with different features for use in everyday life and in doing so, become a byword for maximum individuality. The BEE can be called to your location using an app. In Continental's mobility concept, there are only a few minutes between ordering the BEE online and its arrival.
On the promenades, visitors to the innovation booths can experience the technology company's most recent developments. At the IAA, Continental is presenting its development platform, CUbE (Continental Urban mobility Experience). Continental expects that, in the future, robo-taxis like these will play a crucial role as an addition to public transport, efficiently addressing the "first mile – last mile" challenge by enabling seamless, stress-free mobility in cities and suburbs. Experts anticipate that it will be possible to avoid many city-center traffic jams through the large-scale use of autonomous shuttle fleets. At the same time, fully automated vehicles will offer the opportunity to travel from door to door with public transport. A large number of diverse technologies, with which Continental has many years of experience, are used in the development platform – from sensors, electronic control units, software algorithms, tires, surface materials and brake systems to drive technologies.
During a live demonstration Continental will present its new 3D Flash LIDAR sensor. From 2020, the laser sensor should provide a detailed image of the vehicle's entire surroundings in real time without mechanically moving components in new vehicles. The high-resolution vehicle surroundings sensor is a key component for creating a comprehensive 3D model of the vehicle's surroundings for automated driving, and supplies reliable data both day and night and even in adverse weather conditions.
Electrification innovation stream – the lightweight electric drive and a super-clean diesel
At the electrification lounge, Continental will present its innovations for the electromobility growth market: the new AllCharge charging technology for quick, wired charging and a complete charging system for convenient wireless charging. The 48-volt technology is also in focus – not only for hybrid vehicles, but also for e-bikes: At the IAA, a new 48-volt drive for e-bikes will be presented – with fully integrated variable automatic transmission.
The electric EMR3 powertrain is also highly integrated and particularly lightweight for a variety of vehicle concepts. The complete powertrain module can be quickly and easily integrated into new electric vehicle models. It combines power electronics with an inverter, electric motor and transmission gearing in a single, compact, weight-optimized unit. Continental engineers were able to reduce the weight of the module at 150 kW to just 75 kg. Continental offers vehicle manufacturers its complete electrical final drive in one module in performance classes up to 320 kW. In doing so, Continental has designed its drive system, which has been in production for some years, to again be considerably more compact and powerful. The market launch for the new e-drive will take place in China in 2019.
Lastly, engineers will unveil Continental's answer to the question of the future of combustion engines: Super Clean Electrified Diesel makes it possible to comply even with today's strictest emissions regulations. All in all, in a test vehicle, this results in a 60% reduction in nitrogen-oxide emissions compared with a current Euro 6 diesel vehicle and a 4% reduction in fuel consumption at the same time. The use of added synthetic fuels can lower emissions even further.
Connectivity innovation stream – the cockpit of the future adapts
The third large topic at Continental's IAA booth is connectivity. In its Cockpit Vision 2025, the technology company allows reality to merge with the virtual world. With the help of high-tech goggles, visitors to the booth can take a computer-generated look at the forward-thinking cockpit of tomorrow: It adapts to each driving situation, changes its surfaces and only ever shows the driver the operating elements and displays necessary for the current driving situation.
Connectivity also ensures more comfort: A connected vehicle key on a smartphone allows access to the vehicle even if the car battery is empty, thanks to digital unlocking. Meanwhile, in combination with Continental Smart Access (CoSmA), the car door becomes intelligent, which means that it can open and close independently to enable entry and exit to the vehicle. This assistance function not only makes emergency locks superfluous but also increases design freedom with regard to doors. Finally, connectivity protects more vulnerable road users in particular. If future vehicle systems detect a passing cyclist or motorcyclist, the driver is warned to prevent the door from being opened too soon - for instance with the aid of intelligent interior lighting which illuminates differently depending on the situation. Another way Continental is ensuring that you arrive relaxed and safe.
Tire innovations for a safe journey
All these technologies make full use of their potential particularly when in perfect combination with the vehicle's intelligent tires. With ContiSense and ContiAdapt, Continental will present at the IAA a new tire technology concept from their pre-development department. The concept combines tires with sensors and other applications. This results in increased safety and more comfort – not only for the automated and autonomous vehicles of the future. Those who currently drive particularly sporty vehicles can now rely on Continental's new WinterContact TS 860 S tires. As ultra-high-performance (UHP) premium winter tires in sizes 18" - 21", the new WinterContact TS 860 S is ideal for highly motorized vehicles in particular.
IAA public days become future days
Continental is supporting a special campaign as part of the New Mobility World. In the outdoor area, the 2025AD.com dialog platform will give visitors the very real opportunity to shape their desires and ideas for the car of the future. The ideas will be sketched right there and then by vehicle designers, who will commit dreams to paper and give them to the visitors to take away. At the same time, these ideas are intended to encourage discussions about the opportunities and possibilities of automated driving on the 2025AD.com Internet platform.
Contact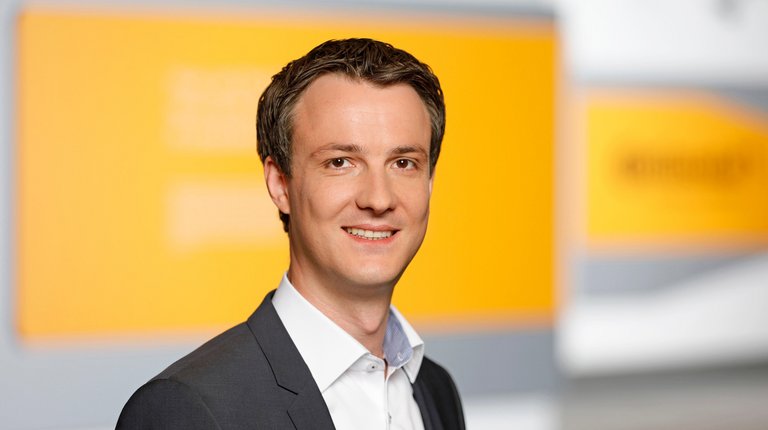 Vincent Charles
Head of Media Relations