Press Release
July 18, 2018
Strengthening Its Values Alliance for Top Value Creation: Continental Realigns for Future Mobility
Continental's Executive Board decides on one of the largest organizational changes in the company's history
New holding structure: Three strong business sectors under the umbrella of Continental AG
Transformation of the Powertrain division into an independent legal entity with a new name and management by the start of 2019; partial IPO expected starting mid-2019
Reorganization of the Automotive divisions Chassis & Safety and Interior; creation of a central Automotive R&D function
Rubber business with the Tire and ContiTech divisions to remain independent
CEO Dr. Elmar Degenhart: "These changes strengthen the competitiveness of Continental and its successful values alliance for top value creation in the long term."
Hanover, July 18, 2018. The Executive Board of the technology company Continental decided today to undertake one of the largest organizational realignments in the company's history. In doing so, the Dax-listed company will continue to grow faster than its relevant markets and take full advantage of new potential for expansion in the key future areas of mobility.
The decision involves the creation of a holding structure of Continental AG under the new "Continental Group" umbrella brand. This holding structure will be supported by three strong business sectors – "Continental Rubber", "Continental Automotive" and "Powertrain." The reporting structure and the new names are to be used starting in 2020. These business sectors will be established step by step or, where necessary, enhanced. This change needs to be approved by Continental AG's Supervisory Board, as well as for the transformation of the Powertrain division into an independent legal entity with a new company name and management by the beginning of 2019. Its partial initial public offering (IPO) is expected starting mid-2019.
Furthermore, the current Chassis & Safety and Interior divisions will be reorganized by the beginning of 2020. They will become two business areas newly named "Autonomous Driving Technologies" and "Vehicle Networking Technologies", with their business results being reported in the new Continental Automotive group sector. Both areas will be supported by a newly created central Automotive Research and Development function.
The two current divisions Tires ("Tire Technologies" in the future) and ContiTech will retain their independent organizational structure. Their business results will be reported in the future Continental Rubber group sector.
"This is indeed a historic day for Continental. We are heading into the future of mobility at full speed. Our proven readiness and capacity to change give us an outstanding competitive edge which we want to use to the fullest. Our realignment will make us exceptionally flexible and agile. In Continental's successful values alliance for top value creation, we are growing to meet upcoming challenges, remaining competitive now and in the future. This continues to require pioneering and innovative excellence. With this alliance, we are opening up new, promising perspectives for our customers, employees, investors and all other stakeholders," said Dr. Elmar Degenhart, Continental CEO, on Wednesday in Hanover.
Drive systems area aligned to meet the requirements of markets and customers
Subject to the approval of Continental AG's Supervisory Board, the Powertrain division will be transformed into an independent legal entity with a new name at the beginning of 2019. Andreas Wolf (57) is to assume responsibility for the new Powertrain company. He is currently in charge of the Body & Security business unit in the Interior division.
Powertrain will continue to be in charge of all future business involving hybrid and electric drive systems and all current battery activities, in addition to the combustion engine business. This includes, for instance, the joint venture for 48-volt battery systems recently announced.
At the same time, Continental is preparing a partial IPO for the new Powertrain company, which could take place staring mid-2019. Continental does not, however, plan to relinquish control of the Powertrain business in the medium or long term.
In the new business sector, Continental can envision producing battery cells comprised of solid materials (solid-state technology) in the future, also after this change has been implemented. This would require an attractive business model. A decision in this regard is not expected until after 2020.
The key points agreed upon with the employee representatives in "Continental in Motion – our Alliance for the Future" on April 18, 2018, apply to the planned organizational changes at Powertrain.
The foreseeable change in the drive systems business is the reason why a new independent legal entity is being created. The way the market evolves will largely be determined by political demands regarding emission limits. The pace at which political decision-makers are pushing regulations varies, particularly in key markets, including Europe, North America and China, as well as Japan and South Korea, and growth markets such as India. This requires a great deal of flexibility on the part of the industry in order to be able to react quickly to the individual needs of the various markets, regulatory authorities, societies and customers.
Rubber sector: Continental retains ownership of its nucleus
The Tire ("Tire Technologies" in the future) and ContiTech divisions currently make up the Rubber Group, which in the future will be reported as a "group sector" with the new name "Continental Rubber". The two business areas will continue to specialize in the development of technology products based upon rubber and plastics.
This business, which is the nucleus and origin of the 147-year-old Hanover-based company, will continue to be owned by Continental. The issuance of non-controlling interests, in the form of an IPO for example, is not planned at present, but is an option for the future. Several years ago Continental already undertook preparations, making it possible to create a new legal entity out of this business. No further steps need be taken for this at present.
Reorganization of the Chassis & Safety and Interior divisions
The operations of the two other Automotive divisions Chassis & Safety and Interior will be realigned with the changing requirements and future opportunities presented by the markets and will be divided into two newly created business areas called "Autonomous Driving Technologies" and "Vehicle Networking Technologies" by the beginning of 2020.
The Autonomous Driving Technologies business area will thus comprise automated and autonomous driving as well as all familiar chassis functions including for example electronic and hydraulic braking, stability and chassis control, and electronic air suspension. The Vehicle Networking Technologies business area will deal with a vehicle's internal connectivity as well as its external connectivity with other vehicles and traffic infrastructures. The details are expected to be worked out and announced by mid-2019.
With this reorganization, Continental is above all pursuing the goal of gearing its business with pioneering technologies toward continuing profitable growth, while exploiting this and future growth opportunities faster and more efficiently. In its new automotive business (without the Powertrain division), the technology company expects to increase sales from about €19 billion in 2017 to approximately €30 billion in 2023.
The creation of a central Automotive R&D function will support the realignment of the automotive business. In this new function, the development activities of the current Interior and Chassis & Safety divisions as well as the R&D activities of the current central functions will be integrated, where they will play a more crucial role and be strengthened at the operational level. Approximately 12,000 to 15,000 software and hardware engineers will join together in a global Continental powerhouse for advanced development and application engineering.
In the two new business areas Autonomous Driving Technologies and Vehicle Networking Technologies, there will be some 17,000 further engineers.
The goal of this integration is to maximize R&D productivity and achieve a smooth, speedy product launch, which is crucial in the industries relevant for Continental. This will be made possible primarily by concentrating R&D faculties on the functions in the vehicle and its surroundings, regardless of which electronic assemblies and systems these are assigned to later on. This focus on functions will facilitate the creation of pioneering solutions for greater safety, comfort, convenience and connectivity on the roads.
"In the next decade and after, the global automotive industry will undergo the largest and most profound transformation in its over 130-year history. We are looking ahead and taking on this transformation at an early stage. Strong and confident, we are doing our part to shape and guide this transformation," he added, pointing out that months of intensive preparation were required in order to come to this far-reaching decision.
Contact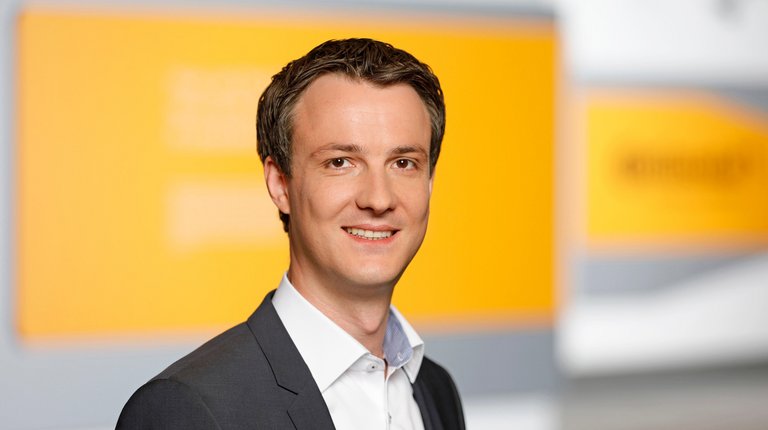 Vincent Charles
Head of Media Relations
Dr. Elmar Degenhart, Chairman of the Executive Board Continental AG

Member of the Executive Board, Finance, Controlling, Compliance, Law, and IT, CFO

Member of the Executive Board, Human Relations, Director of Labor Relations, Sustainability