Press Release
April 26, 2019
Software Expertise Is Crucial for the Success of the Mobility Ecosystem
Continental CEO Dr. Elmar Degenhart: "The automotive industry is currently undergoing the most profound transformation since its inception"
Investments must be made in a variety of drive systems
Continental is the world's leading supplier in the field of advanced driver assistance systems
Software expertise is the decisive factor for economic success
Realignment gears technology company toward the mobility of the future
Hanover, April 26, 2019. The automotive industry is undergoing the most profound transformation since its inception. CEO Dr. Elmar Degenhart feels that Continental is extremely well prepared. At the technology company's Annual Shareholders' Meeting today in Hanover, he explained: "We are in a marathon that is already well underway, and Continental is one of the front runners." He added: "In terms of technology, organization and mentality, we are already fully focused on tomorrow's mobility." Continental will be shaping the mobility ecosystem in three fields of technology in the next 20 years: alternative drive systems, autonomous driving, as well as interconnectivity and the cloud along with data management.
Future type of drive system: most eco-efficient choice depends on use
"After 2030, the last generation of diesel and gasoline engines will be launched," said Degenhart, outlining a possible roadmap for future drive systems.
"After 2040, it is possible that no more diesel and gasoline engines will be sold. From 2050, roads and cities will ideally be free of CO2 emissions." The question here is which drive system is the most eco-efficient for the respective vehicle use. "For small, lightweight vehicles, the all-electric drive system will probably be the best choice – especially in cities, and when a range of 300 kilometers is sufficient. But only if the electricity in production and in operation comes from clean sources," Degenhart explained. For heavy vehicles, which are usually on the road more often and for longer stretches, the battery is not an eco-efficient option. "But the ultra-clean diesel and clean gasoline engines combined with an electric drive system are already helping the climate today," stated Degenhart. At the same time, Degenhart spoke out against populism with regards to the topic of drive systems: "Populism just fuels emotions. It does not reduce emissions. Only eco-efficient drive systems can do that. They alone are acceptable and affordable. They are thus the best protection for the climate: In term of ecology, economy and society.
Autonomous driving: advanced driver assistance systems reduce the number of accidents
3,700 people die in traffic every day around the world, and 100,000 are injured. We are making driving safer. That is our task," said Degenhart. Today, every vehicle around the world has an average of two sensors for advanced driver assistance systems. These are usually cameras and radar or ultrasonic sensors. "The car needs about 18 sensors for partially automated driving. "In the case of fully automated or autonomous driving, this number increases to 30 – and we are growing accordingly," said the CEO. Continental is already one of the world's leading providers in this field of technology. In 2019, the company expects to achieve sales of more than €2 billion with systems for assisted driving alone.
"Software is the oxygen for the mobility ecosystem"
More and more vehicles are being interconnected via software using Continental's technology. Whereas cars today require more than 100 million lines of software code for their functions, the amount of software required for future functions will increase tenfold. "In the coming years, sales with software will increase tenfold compared to today," said Degenhart, explaining the trend based on market data.
"With the speedy transmission of data, we are boosting our service business for fleets of commercial vehicles and rental cars. Our digital solutions include the recording of vehicle data from afar. For instance, we are monitoring the condition of the tires. Or we are turning the smartphone into a car key," pointed out Degenhart, citing examples of new and successful functions in the software business. The company's need for software developers is accordingly high. The technology company already employs some 49,000 engineers worldwide, more than a third of whom have a software background. In the company's own global software academy, more than 2,000 employees will receive further training in 2019 alone. By the end of 2022, the number of software and IT experts is to be increased from the current level of 19,000 to 25,000.
Realignment gears Continental toward the mobility of the future
In order to respond to the increasing volatility of market changes, the company is currently in the process of realigning its structure. "Above all, we are distributing more responsibility. Executives are being given more freedom. They will be making more decisions on their own. We are providing for simpler processes," stated Degenhart, explaining the goal behind the realignment of the company. Continental will pool a significant part of its research and development activities in the new Automotive group sector, which will specialize in vehicle electronics. The aim is to reduce development times and to be able to respond more flexibly and more directly to customer demands.
Contact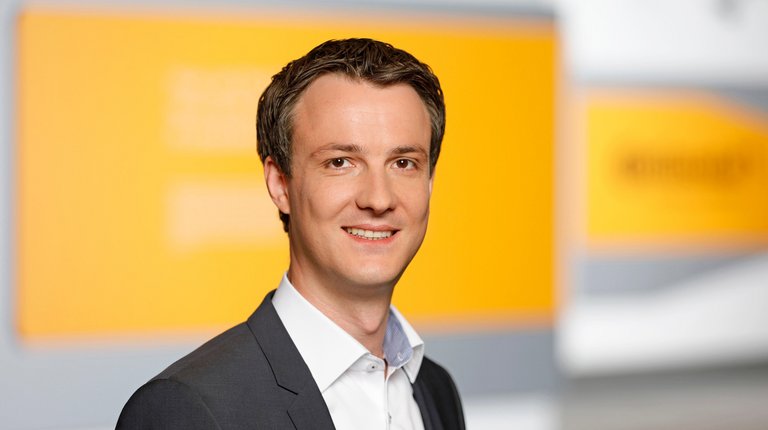 Vincent Charles
Head of Media Relations