Press Release
July 07, 2014
Efficient and reliable: New VDO services for digital tachographs and fleet management
The TIS-Web fleet management portal now has important new functions: the focus is on legal management, driver management and vehicle management
TIS-Web Communicator allows direct communication with the driver's smartphone
TIS-Web Mapping and the TIS-Web Fleet app report vehicle positions in real time, record checks before driving and loads, and provide highly efficient fleet control
Villingen-Schwenningen, July 7 2014. Fleet management made easy:
VDO, a trademark of Continental AG, has expanded its services at the TIS-Web portal, providing even more efficient fleet control and management. The company has created three new services to permit better monitoring of drivers and vehicles and facilitate compliance with current legislation. The services improve the links between drivers, simplify communication, minimize idle times and make fleets more efficient. "In expanding the TIS-Web services we had one main objective: greater efficiency," says Dr. Lutz Scholten, head of Tachographs, Telematics & Services at Continental. "The applications optimize work processes in the fleet so that vehicles can be deployed in the most efficient way possible."
Vehicle checks before driving using a smartphone with the TIS-Web Fleet app
The new TIS-Web Fleet app now permits direct, seamless communication between drivers and fleet headquarters. Important information is transmitted immediately. This saves time and is ideal for fleet management. For example, using predefined checklists before they start out, drivers can carry out the checks stipulated by statutory accident insurance institutions. The reports are transmitted via the app to TIS-Web and are displayed in the TIS-Web Communicator. "The TIS-Web Fleet app creates greater transparency for fleet managers, and this improves efficiency," explains Scholten. "This new VDO service not only standardizes checks before driving, it ensures that each vehicle is in roadworthy condition. If defects are found, the manager is informed well in advance. In this way the app allows repair work to be planned before the vehicle returns to its base. This considerably reduces idle times."
TIS-Web Communicator: Direct transmission of messages from TIS-Web to the driver's smartphone
The TIS-Web Communicator keeps fleet managers up to date at all times. "This is an especially useful tool for medium-sized and large fleets," says Scholten. "Schedulers can communicate directly with drivers from TIS-Web, ensuring smooth fleet coordination." Another advantage of the TIS-Web Communicator is that its display board shows all important fleet activities, including checks before driving, vehicle loads, and incoming and outgoing messages.
Optimal planning with TIS-Web Mapping
What are the exact positions of the vehicles? What are their remaining driving times? And what are their loads? These are the questions answered by TIS-Web Mapping, which displays vehicle positions in real time. For this purpose the vehicles only have to be equipped with a VDO Digital Tachograph of Release 1.3 or higher plus DTCO Smartlink. An costly telematics unit is no longer needed. DTCO Smartlink transmits driver data and other memory data to TIS-Web via the TIS-Web Fleet app on the driver's smartphone. The TIS-Web Fleet app also allows drivers to enter the current volumetric load in their cargo space. In addition, they can attach smartphone photos to messages from the app. If a DTCO 1381 of Release 2.0a or higher is installed in the vehicle, the remaining driving times for the day and week can be shown to the exact minute.
TIS Web from VDO: ideal for fleets of all sizes
The digital fleet management system TIS-Web from VDO is already in use throughout Europe. More than 20,000 companies in Europe use TIS-Web to optimize their fleet management and to archive, analyze and display data generated in compliance with laws governing the transport industry. TIS-Web is being continuously updated in order to raise fleet efficiency and ensure conformity with the latest legislation in this sector.
Contact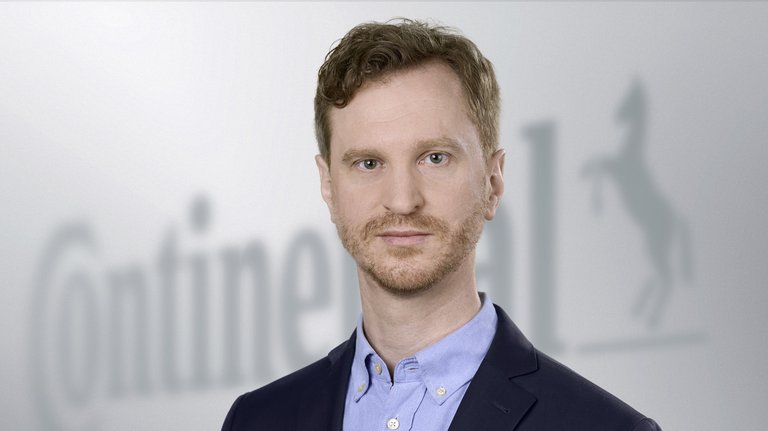 Oliver Heil
Media Spokesperson Smart Mobility