Press Release
March 18, 2019
Summer car tires from Continental
Wide range of products for almost all sports cars, sedans, compacts and minis
Performance characteristics: even greater safety, low rolling resistance
New: EcoContact 6 - maximum efficiency for up to and including luxury class models
Hanover, March 2019. The EcoContact 6 is the brand-new summer tire from Continental that joins a portfolio which this year features almost 240 new additions – including new tire sizes for sports cars, mid-range and luxury-class cars, minis and subcompacts. As a result, the German tire manufacturer now offers one of the world's most extensive ranges of tires for cars, SUVs and light commercial vehicles. In tire tests staged by the automotive media and automobile clubs, Continental's summer tires scored first-place finishes and top ratings.
SportContact 6 – the high-tech tire for the ultra-high-performance segment
With the SportContact 6, Continental has a super sports tire for the ultra-ultra-high-performance segment in its portfolio that demonstrates substantial improvements over its predecessor, primarily in terms of handling, precision steering response and high-speed capability. To put this tire's superior performance onto the road, Continental's development engineers have reformulated the chemical composition of the tread strip, redesigned the tread pattern, and revamped the construction of the tire. There are almost 90 sizes available for 18 to 24-inch rims, with tire widths from 225 to 335 millimeters and aspect ratios between 50 and 25 percent. The SportContact 6 is approved for speeds of up to 350 km/h.
PremiumContact 6 – safety and precision handling for mid-range and luxury-class cars
With the PremiumContact 6, Continental successfully bridges the gap between a sedan tire with high ride comfort and a tire for sporty models. It unites ride quality, precision steering response, maximum safety and good environmental properties in a single product. To this end, the development engineers have come up with new compounds, a new tire design that borrows from Continental's high-tech SportContact 6 tire, and a tread pattern that makes for a comfortable ride. The outcome is a product that delivers improvements of up to 15 percent in handling performance, rolling resistance, mileage and ride quality compared to its predecessor.
The PremiumContact 6 is manufactured in around 120 sizes for rims from 15 to 22 inches to fit passenger cars and SUVs. The current range covers tire widths between 185 and 325 mm with aspect ratios between 65 and 30 percent and approvals for speeds of up to 300 km/h.
New: EcoContact 6 - maximum efficiency for up to and including luxury class models
The new EcoContact 6 sets new standards – for rolling resistance and mileage in particular. It brings together maximum safety, comfort, precision steering response and good environmental properties at a level never before attained in a single product. To achieve this, the development engineers at Continental have come up with new compounds and components, as well as some innovative additives. Their efforts have led to improvements in wet braking performance, handling, rolling resistance and mileage of up to 20 percent compared to the predecessor model. This new premium summer tire is being manufactured for passenger cars and SUVs and volume production has already begun. Replacing the ContiEcoContact 5, the EcoContact 6 comes in 100 sizes for 13 to 22-inch rims, in widths between 145 and 315 mm, with aspect ratios between 80 and 30 percent and with approvals for speeds of up to 300 km/h.
AllSeasonContact – for compact to mid-range models, all year round
With its innovative blend of tread design, compound, tire contour and construction, the AllSeasonContact provides a high-class response to the issues that have previously plagued all-season tires in terms of their winter and wet-weather performance. At the same time this tire also offers the best fuel efficiency in the premium all-season tire segment. Delivering the perfect balance between the various tire characteristics, this all-rounder with directional tread is the latest addition to a long series of successful products in the Summer- and WinterContact family. From Continental's point of view, the AllSeasonContact is particularly suitable for vehicle owners who cover relatively low mileage in moderate wintry conditions in and around town. For all other drivers, in the interests of maximum traffic safety, Continental continues to recommend fitting tires that have been specially developed for the relevant season. The AllSeasonContact is available in 50 sizes for 14 to 20-inch rims and with approvals for speeds of up to 270 km/h.
Wide range of tires for light commercial vehicles and vans 
In the high growth segment of tires for SUVs, light commercial vehicles and vans, Continental again offers a product range that leaves nothing to be desired. From the extremely safe ContiVanContact series and the particularly fuel-efficient Vanco Eco, to the specialist tire for recreational vehicles, the Vanco Camper, Continental tires offer very good handling properties combined with high load capacity, robustness and low wear. One new addition this year is the extremely economical VanContact Eco with an A/A EU tire label in almost all sizes. The range is rounded off by the all-season Vanco FourSeason 2.
Contact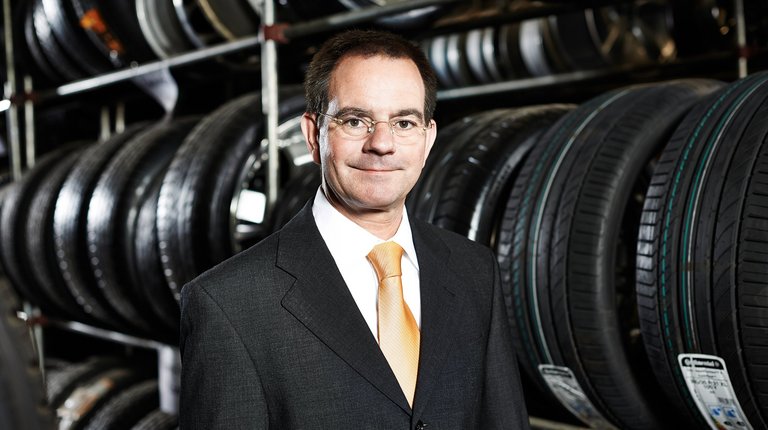 Klaus Engelhart
Press Spokesman
Passenger Car Tires / Germany, Austria, Switzerland