Press Release
June 25, 2019
Continental tires highly successful in Original Equipment market
The German tire manufacturer factory-fits one in three new cars in Europe
Nine out of ten best-selling European cars are approved for Continental tires
Sports cars, luxury models and electric cars are also fitted with tires by Continental
Hanover, June 25, 2019. Continental is one of the largest suppliers of tires to vehicle manufacturers. About a third of new cars in Europe are fitted with tires from the Hanover-based German company. What's more, when it comes to the best-selling European cars such as the VW Golf, Renault Clio and Ford Fiesta, manufacturers have approved nine out of ten models for fitting with Continental tires. The company's products are also popular with the producers of sports cars and super sports cars such as Porsche, Maserati and AMG. Rolls Royce and Maybach drive on Continental, while electric car manufacturers Audi, Tesla and Renault also rely on the company's products for the contact patch between car and road. Continental's customer list is not limited to European manufacturers, with Asian manufacturers such as Hyundai also highly pleased with the development expertise emanating from Germany.
Continental has just received further approvals for OE tires from leading European vehicle manufacturers, with Audi's e-tron and the Q8/SQ8 running on its summer and winter tires. BMW has followed suit, fitting Continental tires to its X7, X3M, X3 and Z4 models. The Rolls Royce Cullinan rolls out of the factory on tires developed by the development department in Hanover-Stöcken, and now Porsche is also relying on the expertise of the Continental engineers for its winter tires.
The reason for the wealth of approvals for summer, winter and all-season tires is the high level of expertise and experience that Continental engineers have gained in the development of OE tires. As a result, the products are separately adjusted to each vehicle manufacturer's requirements to accurately achieve the additional characteristics desired, such as perfect handling for Porsche or M-BMW, maximum comfort even at high speed for Rolls Royce, and very low rolling resistance for electric cars. A single development round is often not enough. In collaboration with the car manufacturers, prototypes are developed and tested until the customized tire is a perfect match. Such tires also have special identifiers to ensure that they are fitted to the right car. The "MO" identifier, for example, stands for Mercedes tires, while products for BMW are marked with an asterisk (*).
The reason for this highly successful business with vehicle manufacturers is both the many years of experience gained by Continental engineers and the involvement of colleagues from other divisions of the company. Collaboration with the brake and chassis specialists from the Chassis and Safety Division ensures synergies that no other tire manufacturer can offer. At the same time, the development of OE products helps the engineers to identify new trends in the industry in advance and adapt to them. This creates a classic win-win situation that also generates satisfied customers for the tire trade, as experience shows that when ordering replacement tires, car owners buy the same model their car was delivered with.
Contact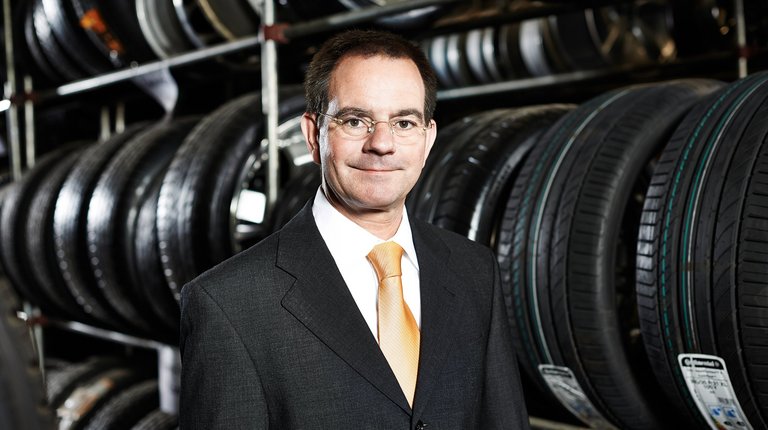 Klaus Engelhart
Press Spokesman
Passenger Car Tires / Germany, Austria, Switzerland