Press Release
September 14, 2021
Continental continues to expand its product range, with premieres for air suspension dampers, compressors and thermostats
Continental presents three new products for the automotive spare parts market
Air suspension dampers, compressors and coolant thermostats complement the automotive supplier's aftermarket product range
In this way Continental is continuing its drive toward "Everything from a single source"
Schwalbach, Germany, September 14, 2021. This year's automechanika will see Continental unveil three new products that expand the automotive supplier's already broad product range: air suspension dampers, compressors, and coolant thermostats. The company will be present in two ways. First, it will be using an online site, "Automechanika Frankfurt Digital Plus", to showcase its products. Here proven solutions like the ATE Ceramic pads, recent winners of a General German Automobile Club (ADAC) award, and the wide range of Continental's starter and start-stop batteries can be seen alongside the newly launched products. Second, as part of the Automechanika Academy, the automotive supplier and tire manufacturer will also be hosting a presentation to show the important role that data-based services could play for workshops in the future. "We're consistently pursuing our policy of product range expansion with these new product launches and coming one step closer to our vision of offering workshops everything from a single source. Data also plays a key role for us: it's the solution to greater efficiency and customer affinity with workshops," explains Peter Wagner, Head of the OE & Aftermarket Services business segment at Continental.
The serial production part for the aftermarket – air suspension dampers and compressors
Air suspension dampers and compressors launched on the aftermarket as OE parts from series production are new to Continental's spare parts range, enabling workshops to use new parts installed as standard when repairing these systems. The products will be initially available for VW and Audi brand models, including the Audi A8, Audi Q7 and VW Touareg. The product range will also see more vehicle models in the future.
A range of OEM-quality coolant thermostats that precisely control the cooling circuit in the engine will also be launched, contributing to efficient combustion, and helping to reduce CO2 emissions. The Continental products consist of cartridge thermostats, housing thermostats and electrically heated thermostats, ensuring market-driven vehicle coverage as soon as they are launched. In the medium term, Continental will also be offering thermostats for electric cars as part of the continuing expansion of the product range.
In the drive systems segment, the company will also be introducing belt drive components for thermal management. One highlight of this product range is the electrically controllable water pump. It regulates engine temperature depending on the current load requirements, enabling modern engines to operate more efficiently, and reducing fuel consumption. Continental will also be presenting drive belts for BSG systems (belt-starter generator) and hybrid-driven units.
Contact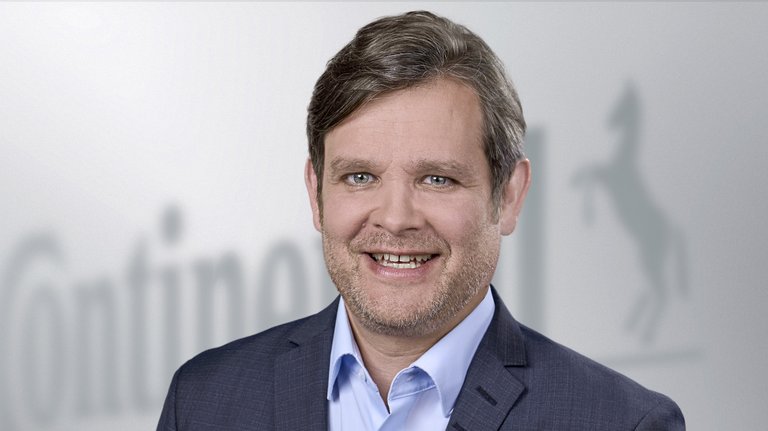 Christopher Schrecke
Media Spokesperson Smart Mobility