Press Release
May 06, 2022
SportContact 7 "Exemplary" in Elite Showdown
New sports tire from Continental rated "very good" and "good" on dry and wet roads in test
Test result "exemplary" among ten competitors for size 245/40 R 19
Editorial team praises best handling characteristics, good aquaplaning reserves as well as short braking distances and safe driving on wet roads
Hanover, Germany, May 6, 2022. The experts at the German car magazine AutoBild have rated Continental's new SportContact 7 as "exemplary" in their summer tire test titled "Elitäres Kräftemessen" (Elite Showdown, issue dated March 31, 2022). The latest creation of the tire manufacturer from Hanover, Germany's was awarded the highest rating among the ten tested size 245/40 R 19 tires from European, Asian and American manufacturers in the sport tire segment. The tires were tested on a 5 Series BMW.
In their summary, the testers praised the SportContact 7 for its "excellent handling characteristics on dry roads, good aquaplaning reserves, short braking distances and safe handling on wet roads." The high-tech sports tire was "in its element" on dry roads, and was involved in a "neck-and-neck race" with two competitors on the wet track, and like them, was awarded a "very good" final rating in this test. In their assessment, the experts did warn against a Chinese product that required a greater braking distance by around 20 meters on the wet track compared with the best tires in the test and therefore received a final rating of "not recommended" due to "dangerously long braking distances and a lack of grip on wet roads."
Even before the AutoBild test, the new SportContact 7 was ranked in first place by the experts during product comparisons. English "tyre reviews," for example, judged it to be "highly recommended" and "sportauto" rated it as "outstanding."
With the SportContact 7, Continental has a new summer tire in its range. With it, the Hanover-based company offers drivers who want to be sporty a very safe, handling-oriented, high-mileage product. Mileage on the race track is up 10 percent compared to the predecessor model, wet braking distances are reduced by eight percent, the new SportContact is six percent better for dry braking, and its service life is 17 percent longer. Handling and grip in both wet and dry conditions benefit from the new development (test with tire size 245/30 R 20). During development, Continental placed value on the highest level of perfection in all performance criteria in order to combine maximum driving pleasure with the highest safety and sustainability in the field of UUHP tires (Ultra-High Performance tire segment).
Contact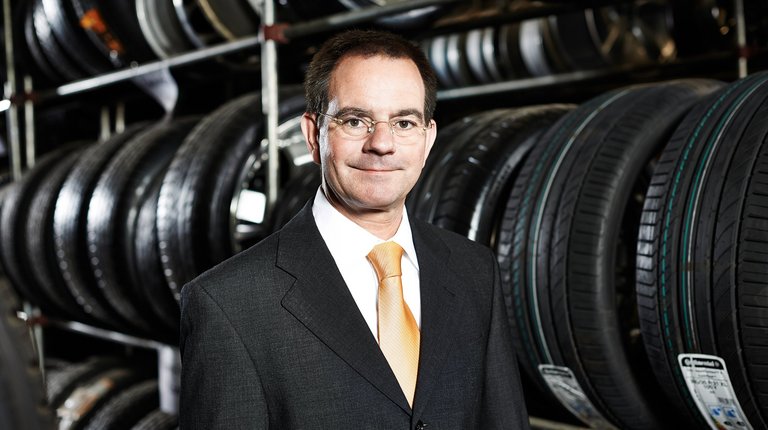 Klaus Engelhart
Press Spokesman
Passenger Car Tires / Germany, Austria, Switzerland