Press Release
July 06, 2022
Electrifying Trucks: Continental Develops a Broad Portfolio for Electric Commercial Vehicles
The market for electrically powered commercial vehicles is definitely picking up speed – Continental records a substantial number of orders
Continental's products, software and services cover all aspects of e-mobility, from vehicle electronics to tires and control systems
Dynamic charging with energy supplied by pantographs is a very promising concept for avoiding CO2 emissions in heavy-duty transport
Frankfurt, July 6, 2022. For Continental, a sustainable future in freight and passenger transport is already within the company's grasp today. In recent months, the technology company has received many orders for various vehicle electronics control components in electrically powered commercial vehicles, including DC/DC converters and control components for the charging process and thermal management. "Unlike the passenger car market, the commercial vehicle sector is still on the starting line for the transition to zero-emission mobility," explains Dr. Ismail Dagli, Head of Smart Mobility at Continental. "However, we can clearly see that the market is picking up speed, despite the significant challenges posed by range and the charging infrastructure. In the future, sustainable drives will also become more critical in the light of ambitious climate change mitigation targets and the continuous increase in freight traffic. This makes it all the more necessary for us to support manufacturers with our extensive portfolio for commercial electric vehicles."
Products, software and services for e-trucks
Far from relying solely on hardware components, Continental is following a holistic approach along the product industrialization path. The e-mobility experts of the Hannover-based company offer all the steps from a single source, ranging from requirements definition and consulting & design to E/E architecture, software solution development and serial production. Here, the development team can combine the best of two worlds: the knowledge gained over decades in the commercial vehicle sector and the latest findings from development projects relating to electric cars. Continental's product portfolio for electrically powered commercial vehicles encompasses DC/DC converters and a wide range of control components, including sound modules, intelligent sensors for battery monitoring, battery management systems and charge controllers, high-voltage cables and many more solutions.
Also, Continental engineers are working with Siemens Mobility at full speed on another solution – the pantograph for dynamic charging, which means taking power from overhead lines to charge the e-battery while driving. The National Platform for the Future of Mobility, an innovation initiative of the German Federal Ministry of Transport, recommends equipping 4,000 kilometers of highway with overhead contact line technology by 2030. "This could be an optimal solution for the future, especially for heavy-duty traffic – it avoids long waiting times at charging stations and the battery can be made much smaller," says Alex Rupprecht, who is responsible for the development of the pantograph at Continental. "We believe that dynamic charging is the clear favorite to significantly reduce CO2 emissions – despite the competition of other technologies using fuels like hydrogen and other synthetic fuels."
Continental is also highly involved in other usage scenarios as a development partner of vehicle and component manufacturers for electric mobility in passenger cars. For instance, the company developed sensors for the protection of e-batteries. The commercial vehicle sector will also benefit from these investments in the future. "We plan to systematically expand our product range in cooperation with our passenger car colleagues, because car components can often be used after only slight modifications have been made," says Ismail Dagli.
Plastic and rubber hardware for e-trucks and e-buses
Truck and bus manufacturers also have reliable e-mobility partners in the Tires and ContiTech group sectors. Last year, Continental developed the Conti Urban city bus tire, which has an increased load index designed specifically for electric buses in urban traffic. The load-bearing capacity of the tire is based on the higher vehicle weights of electric buses. Since 2016, Continental has been active in several development partnerships, for instance, with all the relevant manufacturers of commercial vehicles, for tires specifically designed to meet the requirements of e-trucks and e-buses.
High-performance plastics developed by ContiTech are also used in the commercial vehicle sector – for example, industry experts are equipping a major bus manufacturer's e-buses with axle air springs that meet the high demands of urban traffic in the best possible way. Engine mounts provide even more comfort in the passenger cabin by dampening the vibrations of the electric motor, helping to prevent unpleasant, high-frequency whistling and booming noises. Continental experts are also developing wiring systems for electric vehicles. Electric trucks' cooling and heating lines can comprise up to 100 individual pipes and hoses, plus many transition elements.
Contact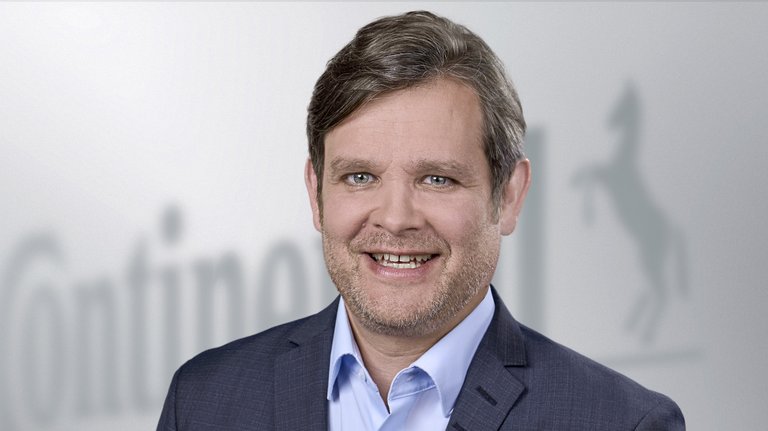 Christopher Schrecke
Head of Media Relations