Press Release
June 19, 2017
Holistic Vehicle Connectivity for a Smart Mobility
More than infotainment: connectivity is becoming a key technology for future intelligent mobility
From over-the-air updates to speaker-less sound: Continental is developing the building blocks for holistic connectivity
The vehicle as a mobile weather station or rental car of the future: Continental is tapping into new business areas for mobility services
Hanover (Germany), June, 2017. Continental connected the first vehicles to the Internet back in 1996. Since then, the technology company has connected more than 30 million vehicles. And a glimpse into the future promises further growth: For the first time ever, this year will see half of all new cars rolling off the production line equipped with some form of connectivity solution, which means that by 2020 around 250 million connected cars will be on our roads all around the world.

"Where vehicle connectivity was once simply an added feature, it is now becoming a key technology for intelligent mobility of the future. This is why we are focusing on holistic connectivity for a seamless online connection and developing the entire vehicle into an open system," says Helmut Matschi, member of the Executive Board at Continental and head of the Interior Division. He goes on to explain why Continental sees holistic connectivity as so much more than simply the development of new telematics solutions: "Holistic connectivity concerns all aspects of a connected vehicle – from the in-vehicle electronics architecture, through the seamless connection, to the services and the interaction between driver and vehicle. Today we are developing the building blocks for all areas of holistic connectivity and, in doing so, we are shaping future mobility."
Updates: wireless, seamless and for the entire vehicle
Keeping a vehicle's software up to date or downloading new features and functions without having to travel to the auto repair shop: what has long been standard for PCs and smartphones still seems to occupy the realm of science fiction in much of the automotive world. "Wireless software updates for the entire vehicle electronics constitute a central building block for holistic connectivity," says Matschi. But for Continental, this is not simply about demonstrating how this capability can be implemented in vehicles securely and reliably. Continental has teamed up with Carnegie Technologies for a solution that enables seamless and disruption-free transition between different wireless networks (mobile telephony, Wi-Fi or satellite systems). To send data packages containing as much data as possible from the cloud to the vehicle and back, the solution can also combine data lines for example from the passengers' mobile devices as a means of pooling transmission capacities. In a collaboration with Inmarsat, Continental is also using satellite communication – in addition to mobile telephony and Wi-Fi – to provide vehicle manufacturers and drivers worldwide with the best possible network connection at all times.
Infotainment of the future: directly from the cloud
Holistic connectivity will also make in-vehicle infotainment smarter and more flexible. With the cloud terminal, applications that were once directly integrated in the head unit will now be moved to the cloud. This ensures that the system is always up-to-date and that new functions can be added at any time, allowing vehicle manufacturers to simply roll out the applications across different models and vehicle classes. The twist is that Continental has created a development framework within the cloud that uses standard development tools and therefore does not require developers to have any specialized automotive software expertise. As such, Continental is opening up the connected car to a broad developer community, creating the basis for a number of exciting functions. The cloud terminal also acts as the driver's digital assistant, analyzing the driver's habits and providing appropriate personalized functions.
Get the best sound – even without speakers
"When it comes to the infotainment of the future, great sound is part and parcel of an attractive mobility experience," says Matschi. Thanks to a speaker-less sound system, Continental has reinvented car audio systems, drastically cutting down on weight and installation volume in the process. Compared with conventional high-end 3D sound audio systems, the speaker-free system requires 95% less volume. Equipped with actuators that cause specific surfaces in the vehicle to vibrate, the system works in a similar way to stringed instruments and provides a high-end audio experience for every vehicle class.
Connectivity creates new approaches to design and interaction
Connected functions also entail bigger display screens in the vehicle, but fully digital instrument clusters offer little scope for design options. To enable drivers in the future to enjoy digital content without having to stare at a classic flat media display, Continental has developed a 3D display interface featuring optically bonded, topographical elements that restore a sense of quality and allow individuality to the classic display. In addition, the integration of digital functions in decorative surfaces for vehicle interiors is featuring more and more on customers' radars. Light integration is a vital development step in this respect. The translucent cover material Acella Hylite produces special lighting effects that can be used, for example, for backlighting a vehicle door. Varying light sources can be used to create customized color effects or to light up warning signals. However, not only must displays adapt to the needs of connected functions – the way they are operated must also be geared toward the digital world. To improve wordless communication between drivers and their vehicles, Continental has developed user-friendly touch gestures for the cockpit.
Holistic connectivity: the basis for new mobility services
Alongside new technological and design possibilities in the vehicle, holistic connectivity offers a range of additional benefits, as Matschi explains: "For us, holistic connectivity creates entirely new business models. In addition to our product business, mobility services will become the next key pillar of Continental." A central principle for a range of mobility services is: the better a vehicle knows its environment, the safer, more efficient and more user-friendly it is on the road. With eHorizon, Continental demonstrates how a vehicle provides important traffic information to the cloud and other road users using a so-called crowd sourcing function in the driver assistance camera. Numerous mobility services can be implemented on the basis of the resulting database. It is also a central element in the development of automated vehicles.

Another example of new applications that announces the concept of holistic connectivity in its name is the Holistic Connectivity Car from Continental. With this application, the company not only demonstrates how a vehicle becomes part of the Internet of Everything, but also offers an insight into the development of new services such as eHorizon.weather. Using eHorizon technology as a basis, this solution will turn your vehicle into a mobile weather station. The service, which was devised in collaboration with Météo-France, not only increases driving safety and comfort, but also acts as a data supplier for weather forecasts. Continental has also constructed a special-purpose, outdoor test field in France comprising 200 vehicles, which allows testing concepts like this and to develop new services.
Connected fleet management and rental cars of the future
In the world of fleet management in particular, connectivity opens up whole new possibilities and enables, for example, remote and anticipatory diagnostics. vAnalytics and Remote Vehicle Diagnostics are two examples of Continental services that are already available. Through the application of VoicR, Continental is also transforming the 40-year-old analog CB (citizens band) radio technology into a digital, speech and location-based social ad hoc network with real-time functionality. In so doing, the technology company is creating new solutions for efficient, secure and future-oriented fleet management, especially aimed at fleet operators and the commercial vehicle market.

Whether rental via an app, vehicle access via a smartphone, personalized seat adjustment or even remote diagnostics: Continental will demonstrate how holistic connectivity is changing the mobility experience of rental car users by means of a vehicle that brings together the technologies making up the rental car of the future into a single ecosystem.
Contact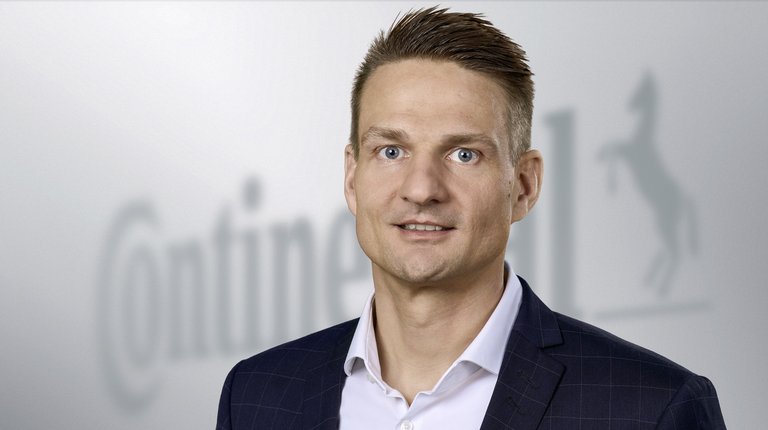 Sebastian Fillenberg
Head of Content, Media Spokesperson and Topic Manager Architecture and Networking