Press Release
November 07, 2022
Innovative, Sustainable, Stylish: Continental Presents Cutting-edge Surface Materials for Hotels
• Innovative: recycled coffee grounds used as a raw material in production of breathable upholstery fabrics
• Sustainable: CO2 emissions minimized throughout the value chain
• Stylish: new products from Continental keep up with the latest furnishing trends and make a mark with color
Hanover, Germany, November 7, 2022. We drink more than 33 billion cups of coffee in Europe – every year. Indeed, figures from the International Coffee Organization show that Europeans consumed some 273 million kilograms of the popular beverage between June 2020 and June 2021. That leaves behind a lot of coffee grounds, all of which would normally be thrown in the trash.
Sustainability meets innovation: the role of coffee grounds as a raw material
Continental has now developed a way of using these leftovers as a sustainable raw material for its surface products – such as in the upholstery fabric skai VyP Coffee. To this end, the grounds produced during the preparation of coffee are processed before being incorporated into the material's production. This avoids waste, meaning no greenhouse gases such as methane and carbon dioxide are generated. Other recycled and natural elements are also added to the mix. The upshot is that over 65 percent of the conventional chemical raw materials that would otherwise be used are replaced by natural and recycled substances in production of skai VyP Coffee. The upholstery fabric uses laif technology to give it breathable qualities and ensures optimum seating comfort in places where people tend to stay a while, such as hotels, cafés, restaurants or offices. It stands out with its authentic look and soft feel.

But that is far from everything the surface experts at Continental have up their sleeves when it comes to both sustainability and design: "Our sustainable product innovations have a lot to offer the hospitality industry," emphasizes Christelle Perico-Darras, Head of the Hospitality, Healthcare and Public Areas sector within Continental's team of surface specialists. "And we are also aware of our responsibilities here; we are substituting fossil materials with natural and renewable ones, minimizing CO2 emissions along the entire value chain and focusing on long-lasting products and solutions. And all without losing sight of the design aspect. In fact this is another area where we actually inject new impetus while also making a mark with color."
Organic/artificial leather with no compromises 
Take skai Evida, for example, an organic/artificial leather with a highly abrasion-resistant and flame-retardant surface, making it ideal for a wide range of upholstery applications in the demanding hospitality sector. It also leads the way when it comes to sustainability: over 80 percent of the elements used in this organic/synthetic product are made of natural and renewable raw materials. With its organic cotton backing, skai Evida is certified according to Oeko-tex Standard 100 and boasts more than just impressive sustainability and style. Its surface has also been designed to be extremely robust, resistant to disinfectant and flame retardant, without compromising on comfort in any way. Suitable for both seating and wall coverings, the material can be used in all sorts of different areas of the hotel, from the restaurant to the guest rooms to the lobby. The broad color spectrum for skai Evida spans 24 on-trend shades.
Dirt-resistant, hard-wearing, long-lasting – and with optimum flame-retardant properties 
The high-quality upholstery material skai Parotega NF with classic leather grain meets the strict B1 standard for flame retardancy. The surface finish, which employs staynu technology, also makes the material extremely resistant to dirt and very easy to clean. The special coating seals the surface, meaning that dirt particles don't stick to it in the first place or – if they do – cannot penetrate deep into the material. Even stubborn stains such as ink, ketchup, red wine, coffee or lipstick can be removed by simple cleaning. And bacteria or viruses can be easily eliminated from the innovative surface by using a suitable disinfectant. skai Parotega NF can be used anywhere in the hotel interior.
EquipHotel has its finger on the pulse
With these products, Continental is set to have a lasting impact on hotel interiors in a number of ways. The company is supporting architects and designers in the hotel sector as they strive to meet customer demands for greater environmental awareness. Indeed, sustainable hotel concepts in general are very much on trend. People are increasingly keen to be aware, sustainable travelers and do things the eco-friendly way when they're away on trips as well as at home. Sustainability is also becoming an ever more important priority for companies when arranging hotel stays and conferences. Consequently, the idea of sustainability is also a defining element of the industry's flagship trade show, EquipHotel, which is taking place in Paris on November 6 – 10 under the motto of 'conscious hospitality'. Continental will be showcasing its product innovations at stand G71 in Hall 7.3 at EquipHotel.
Contact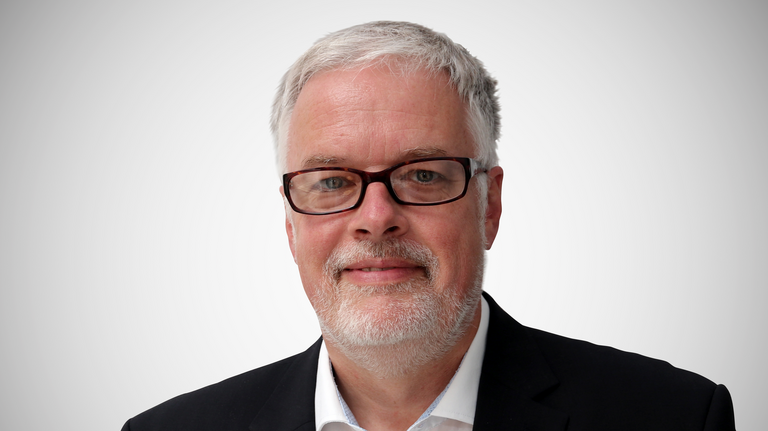 Axel Schmidt
Head of Communications
ContiTech Surface Solutions