E-mobility = Heavy Mobility?
Smart Weight-Loss Program for Electric Vehicle
On average, an electric vehicle weighs 1,622 kilograms,around 284 kilograms more than a conventional gasoline vehicle. According to the Center for Automotive Research, electric cars bring a fifth more weight onto the road than their gasoline counterparts. A few months ago, the German news outlets Handelsblatt (6/2022) and Business Insider (2/2022) concluded that "electric cars are rolling monsters," which threaten the very idea of ecological mobility. More weight means higher raw material consumption in production and greater power requirements during operation.
The main reason for the high weight is the heavy, crate-sized lithium iron battery, which can account for up to 700 kilograms or 30 percent of the total vehicle weight in some cases. Ranges equaling those of conventional combustion engine vehicles are the big promise, and also currently the main sales argument. Another issue is that few people around the world are convinced by the lower-emission forms of propulsion. Internationally, there is considerable uncertainty as to which drive system is "environmentally friendly" overall. The findings of the Continental Mobility Study 2022 confirm this uncertainty. In the European countries (Germany, France and Norway), an average of 64 percent of respondents do not feel sufficiently informed about which type of drive system is sustainable. In Japan, this figure is as high as 67 percent.
To further accelerate the transformation toward lower-emission or emission-free mobility, solutions need to be found that convince people and make the vehicle as a whole more sustainable – and above all more lightweight. Continental already offers a variety of advanced approaches in this regard.
These contribute significantly to ensuring that more technology in the car does not always have to mean more weight. Quite the contrary: Continental's smart solutions actively help to reduce weight, enable lower raw material consumption and ultimately lessen the power requirements.
Contact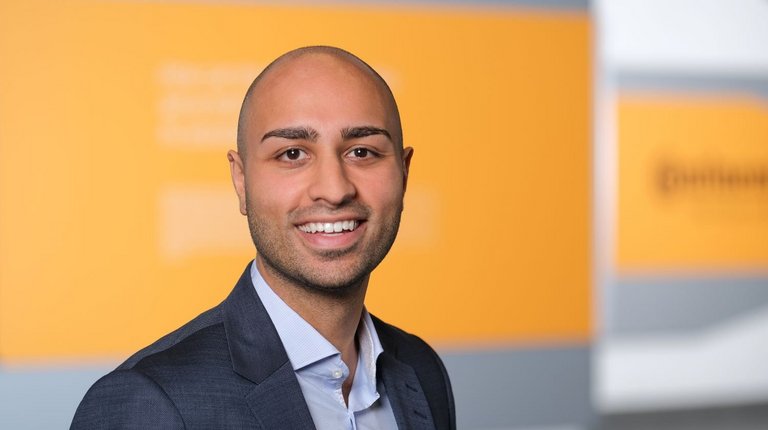 Ali Parvanta
Spokesperson Innovation & Technology
Five smart Continental approaches toward making electric vehicles lighter:
1. The Conti GreenConcept: a sustainable "lightweight tire"
With a high share of renewable and recycled materials, the innovative Conti GreenConcept tire has been designed for concept vehicles featuring environmentally friendly drive technologies. It relies on an innovative lightweight construction that not only improves vehicle energy consumption, but also saves resources during tire production.
The tire weighs just 7.5 kilograms, making it up to 40 percent lighter than a present-day standard tire. This weight reduction has been made possible through an optimized tread, a special sidewall and a new type of casing structure, including a weight-optimized bead ring. In combination, these design features ensure significantly lower material consumption and greater sustainability during driving operation.
The specially designed tread of the Conti GreenConcept provides greater safety reserves than a conventional tire with the same tread depth. The use of materials in the tread has also been optimized to reduce weight. Accordingly, the tire's rolling resistance has also been improved. Based on internal analysis, it is around 25 percent lower than that of a tire with class A rolling resistance according to the EU tire label, the best in this area.
2. Modern light surfaces for interiors
Substantial weight savings can also be achieved with modern vehicle interior materials. Continental's surface products with the "Light" label also reduce fuel consumption and CO2 emissions, as do thermoformable DecoJect® thin foils and flooring films. Weighing up to 50 percent less than conventional materials, they make an impressive contribution toward a sustainably positive carbon footprint. Their use is also particularly important for electric vehicles, where every gram of weight saved means greater range and improved mileage.
Further specific product examples include:
Acella® Light is used for headrests, seat coverings, side trims and center consoles and is 20 percent lighter than comparable standard surface materials.
An impressive weight reduction of 25 percent and an excellent carbon footprint are the key features of Xpresh HD® Light.
The ultra-lightweight Yorn® Light decorative material used in seat backs and instrument panels, for instance, is 50 percent lighter than its conventional counterparts.
3. Weight-saving Ac2ated Sound audio system
Back at CES 2020 in Las Vegas, Continental and Sennheiser presented a speakerless audio system for vehicle interiors. This unique system fills cars with lifelike sound by combining the premium audio concepts of these two long-established Lower Saxony-based companies.
Inspired by the technology of classical string instruments whose wooden body acts as a resonating chamber, Ac2ated Sound uses specially developed actuators to make certain surfaces inside the vehicle vibrate. The result is more than just a particularly natural sound for the vehicle occupants, who are immersed in a concert hall-like experience. The audio solution also has a much lower weight and requires
considerably less installation space than conventional speaker systems. By comparison, current systems are very heavy due to their many components, with weights of up to 40 kilograms. Ac2ated Sound is significantly more weight-efficient since it utilizes existing surfaces. Compared with similar conventional systems on the market, it enables weight and installation-space reductions of between 75 and 90 percent. This system was also installed in the
4. Battery Impact Detection
Most electric vehicles feature a skateboard chassis architecture with the battery pack installed transversely on the vehicle floor. While this design significantly improves the vehicle's center of gravity, it also increases the risk of battery damage. A collision or objects thrown up under the vehicle can result in impact to the battery, leading to severe damage or a fire hazard. Special protective measures are required to prevent or detect the intrusion of foreign objects.

Protection against battery damage and potential fires, however, adds weight.
The conventional means of protection using a metal floor panel, for example, considerably increases the vehicle weight, reducing range. By switching to an active system, damage can be detected using lightweight parts.
Combined with a lightweight construction, the Battery Impact Detection system identifies underbody intrusions and warns the driver if a workshop visit is necessary. This relieves the driver of the difficult decision as to whether a high-speed impact or low-speed ground contact may have damaged the battery. Compared with current metal underbody protection panels, the system can save up to 50 percent in weight.
This new brake caliper developed for the special requirements of electric vehicles is lighter than those for conventional vehicles. This reduced weight also increases the range of electric vehicles.
Future electric vehicles will gain around an additional one percent in range thanks to a new brake design from Continental: the so-called Green Caliper, a newly developed brake caliper for disc brakes, is significantly lighter than previous designs and has a lower residual brake torque. In conjunction with the brake disc, the lower mass – in individual cases up to five kilograms per brake – and the reduced friction between brake pad and disc contribute to increasing the range of an electric vehicle.
This major advance was made possible through targeted further development to meet the requirements of a brake in an electric vehicle. Unlike the brakes in a conventional vehicle, those in an electric car are applied much less frequently. This is because in over 80 percent of all deceleration situations, the brake is not needed at all due to recuperation. However, this does not mean that the Green Caliper needs to do anything less than conventional brake calipers. On the contrary, due to the weight of the battery in an electric car, the deceleration performance of the brakes often needs to be even higher. In contrast, their thermal load is lower because the brake is used much less frequently. And it is precisely for this changed requirement profile that the new brake caliper design has been optimized.
This could be interesting for you