Continental is going on the offensive with respect to the central theme of the sustainability of humankind, and has set itself some ambitious goals in this respect.
Melting ice caps, flooding, record-breaking heat waves: The effects of climate change are increasingly being felt by our world and its inhabitants. Global population growth and the associated rise in the need for resources represent further significant challenges of our time – and increasingly raise the question as to which ecological and social conditions will be necessary in order to meet this need. The gaping divide between rich and poor within societies – but above all also between the world's regions – is a cause for conflict and new migration flows. Here we stand, in the early 2020s, faced with a multitude of existential questions. But the good thing about this challenging situation is that there's still time to do something about it. The foundation is currently being laid for a sustainable and worthwhile future. Not least, 2020 – the year of coronavirus, in which vaccinations were developed in record time – impressively demonstrated what people are able to achieve when it comes to working and making advancements together. This year of upheaval has also shown us that in every crisis, there is also opportunity.
With a view to global goals, such as the Paris Agreement, people – and above all companies – are now being encouraged to find ecologically, economically, technologically and socially viable solutions. The result is a comprehensive transformation of the economy and society that generates new markets, allows for new business models and opens up new perspectives for growth. Confidence in place of pessimism, innovative strength in place of hesitation, transformation in place of "things are okay as they are" – these characteristics have been part of Continental's DNA for the last century and a half.
One thing is also clear: When it comes to sustainability, we're talking about a marathon, and not a sprint. Or to take the metaphor a step further: It's a marathon that includes plenty of intermittent sprints too.
Consistently pursuing the path toward transformation
The world and the global economy find themselves at the start of a new era. The path toward transformation to a sustainable economy is clear. While the solutions have not all been fully developed yet, we are establishing the framework for Continental and its partners.
Sustainability has long been one of the key drivers of innovation at Continental. Now, as part of its new corporate strategy that was unveiled in December 2020, the company plans to also systematically seize the opportunities that arise as a result of the sustainability transformation. That's because: "Sustainable business is the future. It is both an expression of an inner attitude and a forward-looking way of thinking," said Dr. Ariane Reinhart, Executive Board member for Human Relations and Sustainability at Continental. "With our ambitious sustainability roadmap, we are decisively pursuing the transformation to a sustainable economy. This is the decisive benchmark for us and for the entire mobility industry."
The four focus areas of sustainability at Continental
In September 2020, the Executive Board of Continental therefore adopted a particularly comprehensive and ambitious sustainability roadmap – anddefined an ambition as well as an underlying guideline (policy) for the company's sustainability goals. The ambition will also be a permanent part of the new corporate strategy. It comprises four key focus areas. Firstly, carbon neutrality along the entire value chain. Secondly, emission-free mobility and industry. Thirdly, a fully circular economy, and fourthly, 100% responsible value chains. Continental will work in close collaboration with its partners over the coming years and decades in order to achieve these goals. The absolutely crucial thing is that Continental does not lead the sustainability debate with the mindset of sacrifice, but rather focuses on the benefits offered by pioneers in the field of sustainability. "With our roadmap, we are laying a solid foundation for sustainability like no other company in the supplier industry to date. This will enable us to generate additional profitable growth and competitive advantages," said Dr. Reinhart.
An important milestone: Continental is the only supplier worldwide currently to make a connection between emission-free mobility and carbon neutrality – and, from 2022, to make its "assignable" – or, in other words, direct – business for emission-free cars, buses, trains and other vehicles carbon-neutral. The corresponding program for this is called "Carbon Neutral for Emission Free Vehicles", and was also unveiled in December 2020.
The program not only covers Continental's own production processes, but expressly includes all preliminary stages of production right through to the end of a product's service life. The basic requirement is that this is to be business for completely emission-free drives: battery-powered, hydrogen or fuel cell. Hybrid-powered vehicles are excluded. Continental is thus guided by the European Green Deal, by the expectations of investors with a focus on sustainability, and not least by the aims of vehicle manufacturers (OEMs).
Some of the overarching sustainability targets will not have been met by Continental in full for another twenty or thirty years. But what really matters is that the company is already well on its way, laying the right foundations and taking things seriously. This is reflected, for example, in the remuneration systems for managers and members of the Executive Board, which has relied on sustainability as an integral part of long-term remuneration since 2020
"This is an issue that affects us all," said Dr. Reinhart, who went on to name another important factor: "More than 40 percent of Continental's current workforce will likely still be working in 2050. Many others have children and grandchildren. So it's not just an economic concern, but an issue that affects us all personally."
Contact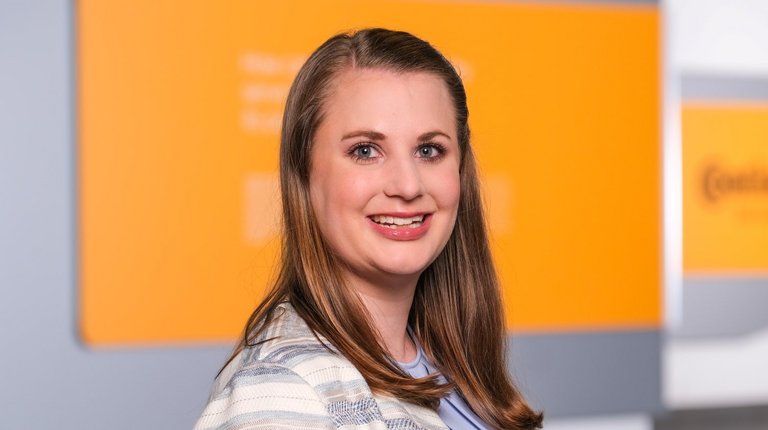 Anna Höhne
Manager Media Relations, Sustainability