Continental's sustainability ambition
Sustainability is the key driver of innovation at Continental and is firmly embedded in our strategy. After all, sustainable business and sustainable management ensure profitable growth and provide competitive advantages.
Our holistic approach – four prongs consisting of carbon neutrality along the entire value chain, emission-free mobility and industry, a fully circular economy and a fully responsible value chain – sets a new standard in the supplier industry.
We will proceed with courage and conviction, but we are also fully aware that we don't yet have an answer to every question and that this will be a marathon.
Climate protection is often associated with sacrifice. We see it quite differently: The transformation of the economy toward carbon neutrality is above all a tremendous opportunity – for the planet but also in commercial terms for our company. We want to boldly take advantage of the opportunities offered to us as pioneers.
Carbon neutrality, emission-free mobility and industry, a circular economy and responsible value chains are the main channels of transformation to a more sustainable economy. Continental can therefore have only one ambition: to achieve 100 percent in each area by 2050 at the latest, and together with our partners throughout the value chain.
We are fully committed to the Paris Agreement. At the end of 2020, the "Science Based Targets initiative" (SBTi) confirmed that our targets are in line with this agreement.
Carbon Neutral for Emission-free Vehicles program
We will be the first in the supplier industry to make our "assignable" business completely carbon-neutral from 2022, with solutions, components and systems for emission-free vehicles (Carbon Neutral for Emission-free Vehicles). We are getting under way now and setting an industry standard at the perfect time, just as the business is experiencing its breakthrough.
Continental will become a role model for the entire supplier industry. We hope that we profit from being a pioneer, but also that other companies join us on this path to comprehensive carbon neutrality. With the Carbon Neutral for Emission-free Vehicles program, Continental plans to demonstrate that the solution to the greatest challenge in human history – climate change – lies in the interaction between sustainability and technology, not in their juxtaposition. The only way to find carbon-neutral solutions is through technological progress. And this has been an integral part of Continental's DNA for the last century and a half.
Anything that is "emission-free" in the future – such as electric drive systems – must also be carbon-neutral, at least when it comes to Continental's solutions, components and systems business. No other automotive supplier is as far ahead and as radical in their thinking as Continental.
Through its proactive approach, Continental is supporting the further expansion of emission-free mobility.
Above all, Continental is playing a key role in ensuring that the justified criticism leveled at the reduced interpretation of "zero emissions" with respect to "zero-tailpipe-emission vehicles" (ZTEVs) can be refuted in the future – at least with regard to Continental's contribution.
The future of mobility clearly lies in ZTEVs. Through its actions, Continental is helping to ensure that the term "zero emissions" will no longer apply only to the service life of a drive system but, in terms of greenhouse gases and all harmful emissions, also to the entire value and supply chain: from the upstream chain to the end of a product's service life.
The company's focus on ZTEVs is based on the firm conviction that this is the only way to achieve carbon neutrality and emission-free driving. This is also the conclusion drawn by the Sustainability Accounting Standards Board (SASB) and the EU taxonomy, which are important frameworks for investors.
Continental makes a conscious effort to think and act outside the box – and by including the upstream chain and the end of a product's life in carbon neutrality, it is setting an industry standard that will be impossible to ignore.
Continental is opting for the "path of fast neutrality" in order to pave the way for an industry standard that lays a solid foundation today. CO2 emissions will not be neutralized by means of detailed calculations using fictitious climate data at individual product level or only in 20 or 30 years' time. Continental's program calculates the respective share of sales generated by the ZTEV business and thus also the company's corresponding CO2 emissions – including upstream chain and end of product life. The bottom line is that all of Continental's solutions, components and systems used for emission-free mobility from 2022 will be net-zero carbon as part of this overall approach.
Contact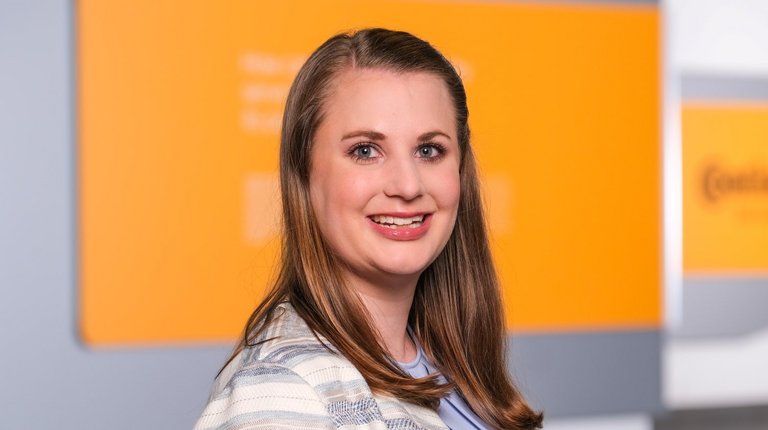 Anna Höhne
Manager Media Relations, Sustainability