Press Release
February 08, 2018
Constantly Connected: Continental Is Shaping the Future of Mobility
Continental will be unveiling innovative solutions and services at the Mobile World Congress in Barcelona
Holistic connectivity is turning vehicles into smartphones on wheels
Smart integration of mobile devices maximizes driver and user experience
Barcelona, February 8, 2018. Starting in April 2018, every new car in Europe will have to be equipped with an integrated SIM card enabling vehicles to make an emergency call at any time in difficult situations. By becoming part of the digital ecosystem, cars will effectively turn into mobile devices. The technology company Continental will demonstrate how it is shaping this transformation during its premiere at the Mobile World Congress from February 26 to March 1, 2018.
"Smartphones, tablets and now cars – this year eCall will finally make vehicles part of the connected world, and they will have to blend seamlessly into users' daily digital routines. At the Mobile World Congress, we will demonstrate that having a seamless online connection and comprehensive cyber security is just as important as ensuring trouble-free integration of mobile devices and intuitive operation," commented Helmut Matschi, member of the Executive Board at Continental and head of the Interior division, explaining the company's focus at the Barcelona fair.
A glimpse into the future: predictive connectivity
Continuous and high-quality mobile network coverage is crucial for drivers wanting to expand their digital lifestyles to the domain of driving without any restrictions. But many regions are still plagued by low bandwidths and high latency; broken off phone calls and interrupted music streaming are not uncommon. This is why Continental has developed a predictive connectivity manager, which collects data on the network quality for the road ahead via crowdsourcing. It uses this data to create a map of available mobile networks and their quality for the specific region in the backend, for example in Continental.cloud. Once it has analyzed this data, the solution can predict when the network connection will deteriorate or drop out and optimize data and channel management accordingly.
Based on the results the software can, for instance, notify drivers that their current phone calls will be terminated in a few minutes' time and tell them when the network quality will be good enough again to continue the call. Alternatively, it can prioritize applications subtly in the background by, for example, distributing less bandwidth to downloading a software update so that the current music stream is not interrupted. Accurate and up-to-date network information will also be decisive in enabling automated vehicles to find their path in the future – another reason why the predictive connectivity manager is set to be an important device. If it detects that the bandwidth along the road ahead is too weak for downloading high-resolution and up-to-date maps, for example, it can "prefetch" the HD map for the relevant section of the route.
The all-rounder smartphone: keyless vehicle access
"Cars themselves are not only becoming mobile devices, but the diverse integration of smartphones is also an important factor in maximizing the user experience. This is why we will be demonstrating our solutions for intelligent vehicle access by means of the virtual smartphone key at the Mobile World Congress," explained Matschi. These solutions are making car rental more convenient for customers and rental companies alike. In partnership with the Avis Budget Group, Continental's "Key as a Service" technology from its aftermarket range enables an end-to-end mobile rental experience with keyless vehicle access and engine start authorization. The technology offers scalability for vehicle manufacturers, vehicle models and regions combined with faster time to market without requiring any changes to the vehicle electronics or modifications to the vehicle architecture. It encompasses not just services but also hardware, and can easily be retrofitted.
Continental's portfolio also includes a solution for car manufacturers, in the form of the Smart Device Integrated Access System. This technology enables hands-free vehicle access and engine start, and is already an integral part of the vehicle architecture. With this, vehicles are already equipped at the factory for all possible "Key as a Service" solutions.
It is also possible to enhance the system with a digital emergency unlocking solution that renders not only the mechanical lock, but also the door handle superfluous. Hence, even if the car battery is flat, drivers can gain access to their vehicle, without having to resort to the mechanical emergency key. Integration of an assistance function creates an intelligent door, which can be used hands-free and digitally because it opens and closes by itself.
The core component of all Continental's smart access systems is the virtual smartphone key, which consists of a tamper-proof data record. This key gains access only after successful one-time authentication by the backend, which sends it to the smartphone via a wireless interface. Further communication takes place exclusively between the smartphone and the vehicle. For the Smart Device Integrated Access solution, the system uses multiple Bluetooth Low Energy modules in the vehicle to enable the authorized smartphone to be located from both inside and outside. Near Field Communication (NFC) is also possible. As soon as an authorized virtual key is detected, the system issues permission to open the vehicle and start the engine. Therefore, a mechanical key is no longer needed.
Smartphones are also expanding vehicle technology
Another remote display option for vehicle data on the smartphone is the filling assistant function, which displays the current tire pressure even during filling. This tells drivers precisely how much air the tire needs without them having to consult the air pump display. In an app on their mobile devices, users can also activate personalized profiles such as seat position, air-conditioning settings and entertainment preferences in advance before they even enter the car. The smartphone is also becoming a mobile component of the holistic human-machine interface, meaning that drivers can manage various vehicle functions such as opening and closing windows or extending and retracting side mirrors remotely.
To make sure that a flat battery does not stand in the way of diverse smartphone integration, Continental will also bring its Multifunctional Smart Device Terminal to the MWC 2018. The terminal enables wireless charging for all smartphones that meet the "Qi" standard, and initializes the smartphone connection via Bluetooth and NFC with the vehicle's head unit. Thanks to wireless antenna coupling, the smartphone also receives significantly better signal quality.
No connectivity without security
To ensure sufficient system security as digitalization advances, Continental's subsidiary Elektrobit – with its new family member Argus Cyber Security – is delivering multilayer end-to-end automotive cyber security solutions and services. "Vehicle cyber security is a top priority for us, as mobility can only be considered to be intelligent if it is secure," said Matschi.
At the Mobile World Congress, the companies will highlight their portfolio of end-to-end solutions. These include intrusion detection and prevention, attack surface protection, health monitoring and management to safeguard the cyber security of vehicle fleets as well as wireless software updates.
Remote Vehicle Data: a powerful platform for connected vehicles
Continental's Remote Vehicle Data (RVD) platform is the basis for innovative, connected services. The platform enables standardized access to manufacturer-specific vehicle data for numerous makes and models. RVD is aimed at vehicle manufacturers, car dealers, rental companies, fleet operators, repair workshops and insurance companies. The platform provides an end-to-end solution along the value chain of connected services and integrates seamlessly into Continental's modular cloud solutions for connectivity-based services. The solution can be adapted to a wide range of customer applications thanks to its modular and cloud-based architecture.
Visitors can find all trade fair innovations and technology developed by Continental in Hall 6, Booth 6B50 at the MWC 2018. In the outdoor area OA3B.170, the company will also be showcasing two demo vehicles.

Contact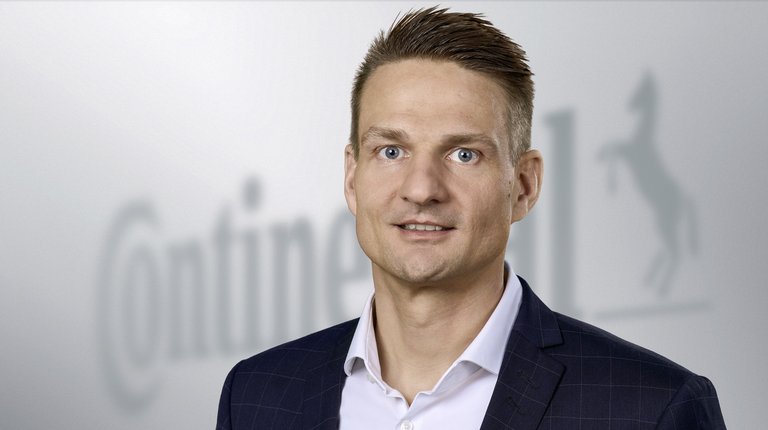 Sebastian Fillenberg
Head of Content, Media Spokesperson and Topic Manager Architecture and Networking