4. Responsible Value Chains
By 2050, Continental aims to have its value chain designed on the basis of fully responsible sourcing and business partnerships. In a fully responsible value chain, each partner creates ecological, economic and social value for society. By establishing a responsible value chain, global companies in particular can have a major positive impact on the societies in which they operate. Each of these companies has great potential with respect to changing the world for the better and helping to ensure a dignified life for the world's population, which is estimated to reach 10 billion in 2050. In addition, companies ensure their own business prospects for the future through responsible action.
As a global player, for Continental this means, in the short to medium term, carefully examining the risks and impact of its business activity in order to understand and improve the social and ecological balance. For this reason, the company is pursuing the globally accepted concept of human rights due diligence, as it is set out in the United Nations Guiding Principles and OECD Guidelines.
"In the long term, Continental will have to take far-reaching measures, however. The main objective is to protect human rights and the environment at every link in the chain: from raw materials to production, to the customers, and to creating added value for society," said Executive Board member Dr. Ariane Reinhart. To this end, the conclusion of new partnerships will be required in order to avert negative social or environmental impacts before they arise. This significant change cannot happen overnight, but rather will have to be gradually implemented.
This change of pace will be essential for our future viability in the coming decades. In addition, a responsible value chain goes a long way in helping to ensure that companies continue to have access to resources and markets worldwide over the long term. Continental's future growth markets – and thus the "customer base of tomorrow" – already play a major role in the company's supply chains. Value creation in these markets as well as support with respect to its political stability and development will therefore expand Continental's future customer base in turn.
Even if the path leading to 2050 is going to be yet another long marathon, this in no way means that quick sprints will be excluded as part of this process. Continental thus founded a joint venture together with partners at the end of 2019 that specializes in the development and distribution of a technical solution for the depiction of sustainability practices in the natural rubber supply chain: Rubberway®.
Rubberway is a technical platform that maps and assesses practices and risks regarding environmental issues, social affairs, and social responsibility across the entire supply and production chain for the natural-rubber industry – from plantations upstream to rubber-processing plants downstream. Rubberway will provide its users – currently primarily the tire manufactures – with the collected data and enable them to identify and improve sustainability in the natural rubber chain. Indeed, the natural-rubber supply chain – which includes around six million farmers, 100,000 intermediaries and over 500 processing plants – is highly complex.
The technological platform Rubberway – produced in collaboration with software developers Smag, Continental and Michelin – has been operational since 2017 and is already used in some of the main production countries. These include Thailand, Indonesia, the Ivory Coast, Nigeria, Ghana and Brazil. Through this joint venture, the three partners are seeking to make Rubberway an independent solution that can be easily used by all the other players in the natural rubber industry and are working towards making the supply chain more transparent.
Full traceability of the supply chain is also the aim of a partnership between Continental and Deutsche Gesellschaft für Internationale Zusammenarbeit (GIZ) GmbH. Both partners created the first fully traceable global rubber supply chain, from cultivation in Indonesia and further processing through to tire production in Germany, in fall 2020. The project, which is funded by the German Federal Ministry for Economic Cooperation and Development (BMZ) as part of a development partnership in the develoPPP.de program, can document all the steps in the supply chain with the help of a digital tracing system. This facilitates sustainable rubber cultivation, protects the forest and improves incomes for the local population. The 450 smallholders who have so far joined the project receive 10 to 15 percent more money, on average, for the sustainable natural rubber they produce. Continental and GIZ have been cooperating since 2018 in the Indonesian province of West Kalimantan on Borneo.
Another example in the area of rubber for responsible supply chains and technological progress is Taraxagum: The idea behind this is to replace the natural rubber taken from rubber trees, without which the production of rubber for tires for cars or bicycles was not previously possible, in certain areas and step-by-step with dandelion roots. This expansion in the range of sources for tire production potentially represents an improvement for tropical regions in which natural rubber grows, which have previously been very strained.
For this purpose, Continental put into operation the research and testing laboratory "Taraxagum Lab Anklam" in Anklam in Mecklenburg-Western Pomerania at the end of 2018. Research has since been carried out there on the cultivation and processing of Russian dandelion as an alternative raw material source to the rubber tree in the tropics. As early as 2014, the initial prototype for a premium winter tire with a tread made entirely from dandelion rubber was brought to the streets. The first truck tires with a tread made from Taraxagum rubber then followed at the IAA 2016. Continental already has bicycle tires made from Taraxagum in volume production. These are not only environmentally friendly, but also well-designed – and decorated with a renowned "Red Dot Design Award".
Contact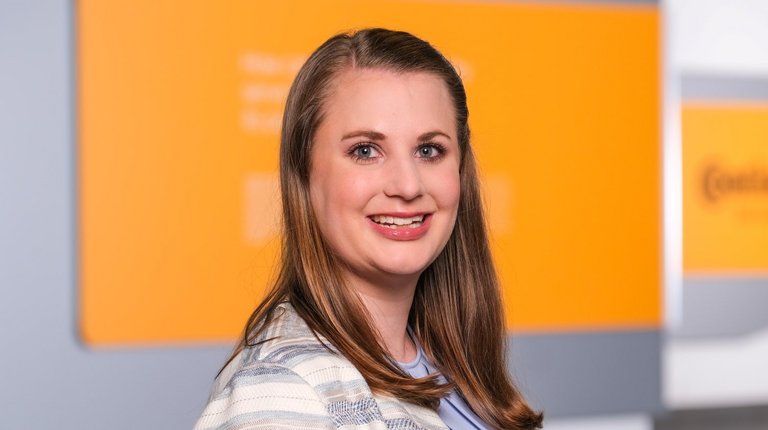 Anna Höhne
Manager Media Relations, Sustainability