Press Release
November 02, 2015
Continental Presents a New Instrument Solution for Agricultural Machinery
Fully-programmable MultiViu High terminal to be presented for the first time at Agritechnica
MultiViu Professional12 instrument cluster equipped with high-resolution 12.3-inch color TFT display
Products to promote the trend toward networked vehicles to relieve the burden on drivers
Villingen-Schwenningen, November 2015. Continental has extended the flexibly programmable instrumentation for its MultiViu product line. At Agritechnica, the international supplier to the automotive industry will be presenting its new, fully-programmable MultiViu High terminal for the first time and also demonstrating its MultiViu Professional12 instrument cluster. Both of these products further the trend toward networked vehicles which relieve the burden on the driver through the clear presentation of the available information. Visitors can also see a new onboard telematics unit that transmits information from and to the vehicle and acts as the central interface. "When it comes to precision farming, automated operating sequences and the transmission and presentation of data are playing an increasingly important role. Our telematics and display solutions make farmers' work simpler, more efficient and, ultimately, more productive operating sequences," explains Dr. Michael Ruf, head of the Commercial Vehicles & Aftermarket Business Unit at Continental.
Fully-programmable MultiViu instrument cluster
With the new fully-programmable MultiViu High terminal from Continental, farmers can monitor and control all the functions of their vehicles and attached machinery. What is more, the high-resolution 12.1-inch touchscreen display presents additional information such as geodata or camera data and allows the driver to operate the air conditioning and media outputs efficiently and easily. It is also possible to define driver-specific authorizations and various driving modes. MultiViu High therefore optimizes everyday work from maneuvering through to precision farming, that is to say the targeted exploitation of cultivable agricultural areas, and relieves the burden on the driver through the clear presentation of information in a three-part menu structure. It is easy to operate, can be adapted to individual customer requirements and is suitable for connection to the ISOBUS system. Thanks to numerous interfaces such as CAN, audio, USB 2.0 or WLAN, the instrumentation platform can be integrated into a very wide range of systems. The control unit has been specially designed for use in agricultural conditions and is well protected against dust and dirt.
The innovative MultiViu Professional12 instrument cluster is a member of the same product family. The high-resolution display and sophisticated software programs permit the fast, efficient implementation of a modern, ergonomic human-machine interface which prepares all the data relating to the agricultural equipment in a way that is clear to the driver at a glance – in the form of animated texts, scales, bar charts and symbols. The display can be switched over to video images either automatically or on demand. The fully programmable instrument cluster possesses a high-resolution 12.3-inch color TFT display, a real-time 2D graphic display and a video display. It also possesses interfaces for CAN, audio, video Ethernet, and configurable inputs/outputs to make it possible to process information from other vehicle components.
Efficient operation thanks to the new onboard telematics unit
With its new onboard telematics unit, Continental has provided a central interface that also connects to the instrumentation. Connected to the agricultural machinery's CAN bus, it transfers data from and to the vehicle and thus makes a wide range of data-driven applications possible, for example during harvesting. In this way, this innovation from Continental helps farmers save time and work more efficiently. It also helps when leasing agricultural machinery because data on the duration and place of use are saved for billing purposes.
Contact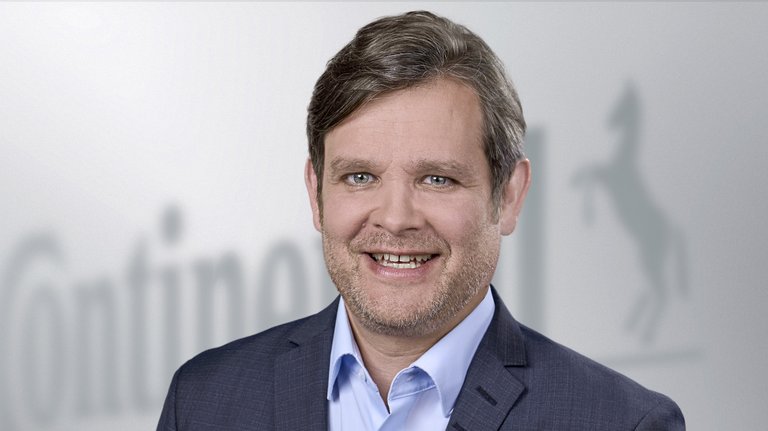 Christopher Schrecke
Media Spokesperson Smart Mobility