Press Release
April 25, 2017
Continental Ready for Next Growth Spurt with Innovative Powertrain Technologies
New strategy for the Powertrain division is focused on efficient combustion engine technologies, hybrid and electric drive systems
Increasing share of electronics in combustion engine drive systems allows growth-oriented transition towards business with electric drive systems
Additional expenses of €300 million to exploit multi-billion-euro business opportunities related to hybrid and electric car technology
Strong order intake and increasing profitability, Powertrain targets for 2019 largely confirmed, striving for sales increase to €10 billion in 2019
Hanover, April 25, 2017. Continental is ready to go. The technology company is approaching the most fundamental transformation in the history of vehicle drivetrain technologies in the next 15 years with confidence and full strength. Its attention is focused on two parallel efforts. The first is the full value creation from the growing demand for the most efficient combustion engine technologies that also guarantee the lowest emissions. The second is to benefit from the prospective growth in environmentally friendly, electrified and fully electric drive systems. This is why Continental will spend an additional €300 million on its business with electric drives alone by 2021. This step, as well as additional plans, are part of the new global "Powertrain Strategy 2020+".
"We now will proceed with the gradual implementation of our new strategy. In doing so, we will be guided by our customers' demands and strategies. In this context, we have to expect gradually falling demand for newly developed mechanic and hydraulic engine components. This is why we will reduce our expenses into these technologies step by step as well. On the other hand, we expect excellent new growth opportunities for our innovative electronic, sensor and software systems due to increasingly stringent emission requirements," said José A. Avila, member of the Executive Board and President of Continental's Powertrain division.
He added: "We will consistently strengthen the growth of our business with electric drive systems. With our total investment of €1 billion in electrification during past five years, we have already laid the foundations for this development. Our Hybrid Electric Vehicle (HEV) business is already experiencing a rising order intake. Here, we expect a growing turnover from €130 million today to up to €1 billion by 2020/2021. And this is not the end of it: We plan to open up additional business opportunities of €2 billion by 2025 with further expenses in research and development of HEV-related technologies. For this purpose, we intend to spend €300 million more than had previously been planned by 2021, particularly into research and development."
With the presentation of the new Powertrain strategy, Continental concludes its review process, which had been announced in the fall of 2016. "What has become clear is that we have made a great deal of progress over the previous years and are well positioned to successfully surmount the future demands on automotive drive systems. Our timing is right. Backed by our strength and our new strategy, we are in an even better position to play a leading role in shaping the upcoming highly demanding transformation of the respective technologies – successfully, and with utmost flexibility" said Dr. Elmar Degenhart, Chief Executive Officer of Continental.
"The combustion engine is yet to have its peak"
"Cars of the future will feature electric drives, which will be fully connected and automated. In 2025, we expect a market share for pure electric drive systems of around 10 percent, and for hybrid drive systems of probably almost 30 percent. This means that the combustion engine is actually yet to have its peak. We do not expect to see a slow decline in volumes until after 2025. Up until this point, we can make it even more efficient, for example with our 'people's hybrid' for wide-ranging vehicle segments. Our 48-volt system is making the combustion engine quieter and the air cleaner. We are a trailblazer in this respect, having been the first to bring this system onto the market for standard production, and will therefore grow quickly and profitably," said Degenhart.
The automotive supplier therefore continues to expect significant business opportunities for fuel efficiency technologies in internal combustion engines over the next decade. They are the only means to comply with even tougher emission legislations around the world.
As a result of ever-increasing shares of electronics, sensor systems and software in combustion engine drive systems, Continental expects a continuous growth-driven transition towards the business with electric drive systems.
The additional HEV-related sales will more than compensate for the expected business at risk from the combustion engine drive systems after 2025. "The current decline in the diesel market for passenger cars and light commercial vehicles has a very limited impact on our business because diesel-related sales only account for less than 2 percent of sales for the whole corporation," said Avila.
Strong order intake and rising profitability in Powertrain division
Order intake in the Powertrain division totaled €11.5 billion in 2016. In 2017, the company expects continued growth. "We are receiving particularly large numbers of orders for our products and systems for hybrid and electric vehicles. Last year, the life-time value was more than €1.2 billion. This amount was up 17 percent on 2015," Avila explained.
For the ongoing fiscal year, Continental expects Powertrain sales of approximately €8 billion. This projected sales increase of 9 percent would significantly outperform the estimated market growth related to an increasing production rate of light vehicles of just 1 percent. For 2019, the company confirms expected sales by Powertrain of around €10 billion.
Powertrain's profitability (adjusted EBIT margin) in fiscal 2017 is expected to reach 9 percent followed by around 10 percent in the years to come (excluding HEV).
Contact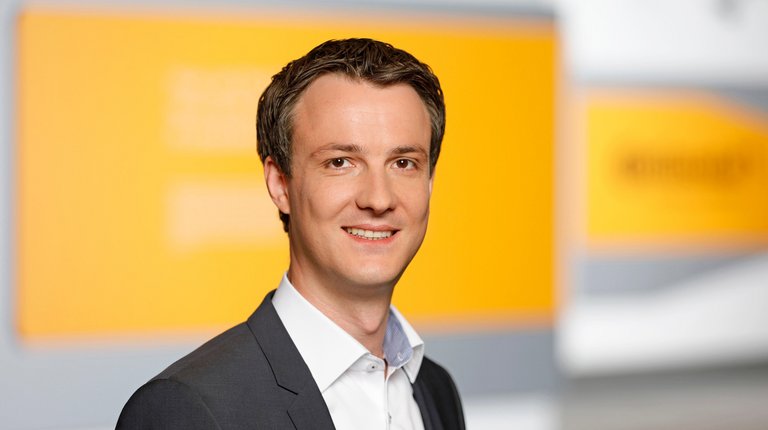 Vincent Charles
Head of Media Relations