Press Release
October 08, 2017
Mobility Fair EVS30: Continental Presents Innovative Charging Technologies for All Applications
From standard AC charging to fast DC charging or user-friendly wireless charging, Continental offers a uniquely extensive range of scalable and globally compatible platform solutions
300 kilometers of driving range in just ten minutes: new AllCharge system can use the full potential of the available charging infrastructure
Regensburg, Stuttgart. October 9, 2017. What's the best way to deliver efficient, fast and convenient EV recharging? This is a key question for the future development of electric vehicle technology. The first step is to recognize that different infrastructures, vehicles types and applications require different solutions. Continental has developed a comprehensive portfolio of scalable, globally compatible charging technologies. At the 30th International Electric Vehicle Symposium & Exhibition (EVS30), which will be held in Stuttgart from October 9 to 11, it will be presenting innovative systems for both cable-based and wireless charging, and for all types of current and voltage levels.
Looking to the future, Continental is following a three-pronged approach to charging. For conductive (cable-based) charging, the technology company's systems comprise both the established on-board charger for AC charging and the all-new AllCharge system, which also supports DC charging at fast-charging stations and therefore offers optimal flexibility. For maximum convenience, Continental also offers a further solution in the form of automatic inductive (wireless) charging. "This wide spectrum of charging technologies, developed on the basis of our extensive cross-divisional know-how at Continental, gives us an important edge over competitors," says Dr. Oliver Maiwald, Head of Technology and Innovation, Powertrain Division. "All our systems are designed so that they can be adapted to different regional requirements. And we see a market for all three charging technologies, based on customers' different priorities in terms of efficiency, flexibility and convenience."
Proven and efficient: the on-board charger
On-board charging is the most common type of charging technology at the present time. This vehicle-integrated system uses a rectifier to convert AC current into the DC current required for charging the battery. The on-board charger allows an electric vehicle to be charged at an ordinary household power socket (single phase, 230 volts) up to a maximum charging rate of 3.6 kilowatts. Higher charging rates are possible if three-phase AC current (400 volts) is used. The Continental on-board charger is currently designed for charging rates from 3.6 to 11 kilowatts. A 22-kilowatt version is currently in development. As a universal, globally compatible box, the Continental system can also be used in countries with a 110V power supply. The big strong point of the on-board charger is its efficiency. It is the most efficient of all the various Continental charging systems, although the other systems too achieve efficiencies of over 90 percent. The Continental on-board charger also comes with galvanic isolation, which makes it suitable for use in applications where such protection is a must.
Flexible and efficient: the new AllCharge system
With the AllCharge system, Continental has developed an innovative charging technology that allows car drivers to use any charging station at any time, whatever the type of current or voltage level. The Continental engineers adopted an incredibly simple approach with this system: rather than cramming the car with even more charging technology, they turned the electric powertrain itself into a 'charger'. This meant specially adapting the electric motor and the inverter (which is used for converting between DC and AC power) to enable them to support the additional task of charging. The only extra component involved in this system is a DC/DC converter, whose job is to ensure an optimal power flow to the battery at all times. In the case of AC current, the current flows from the charging station via the electric motor to the inverter, where it is converted into DC current before being supplied to the battery. In the case of DC current, the current from the charging station flows directly through the DC/DC converter to the battery.
AllCharge allows drivers to be completely flexible when using cable-based charging, enabling them to access a complete range of charging infrastructure. Also, if AC current is used, charging is no longer subject to the limitations of the on-board charger. If appropriate AC infrastructure is available, AllCharge can charge the battery at a rate of up to 43 kilowatts, providing an extra 50 kilometers of range for just ten minutes of charging time. With the new Continental system, it is also possible to use 400-volt DC fast-charging stations, which can supply up to 150 km of driving range from ten minutes of charging time. In the same space of time, premium vehicles with a very large battery can even add an extra 300 km to their driving range by hooking up to an 800-volt DC charging station. This brings the charging time close to the refueling time for a conventional vehicle.
Maximum convenience: automatic wireless charging
"By 2020, the much-discussed question of 'range anxiety' will be pretty much a non-issue," says Maiwald, "due to larger batteries and increasingly user-friendly charging options." Of all the various charging methods, the ultimate in terms of convenience is automatic wireless charging. This inductive technology, where charging power is transferred wirelessly from a ground-based charging pad to a receiver pad on the underside of the vehicle, means drivers no longer have to grapple with cables when topping up their vehicle. At the same time a new Continental micro navigation solution also helps drivers park the vehicle precisely over the ground pad. Future developments in the field of semi-automated driving technology will allow this precise positioning function to be performed without any action on the part of the driver. After parking, the system charges the vehicle fully automatically. Continuous safety monitoring is performed throughout the charging process. The inductive charging system is so convenient that drivers can easily take advantage of recharging opportunities however brief their stop-off. A 20-minute shopping stop, for example, can be used to increase driving range by up to 20 km – because at a charging rate of 11 kW, for which the Continental system is designed, every minute of charging time provides approximately one kilometer of driving range.
EVs as a mobile energy source
Thanks to their battery, electric vehicles have a further advantage over combustion-engined vehicles – on top of the benefits in terms of pollutant emissions – in the form of their ability to serve as a high-powered mobile energy source. For example on camping trips they can provide a 230V AC power supply for electric devices ranging from laptops to fridges. For small contractors working on construction sites too, or for mobile service providers, this 'mobile energy storage' capability is an important benefit. Looking further ahead, it will also be possible to use electric vehicles as grid-integrated mobile energy stores, giving them a role to play in the transition to renewable energy. To perform these functions, the charging systems must be able not only to supply charging energy to the battery but also to feed energy back from the battery to the grid when required. This bidirectional capability is already an integral feature of the Continental AllCharge system.
Contact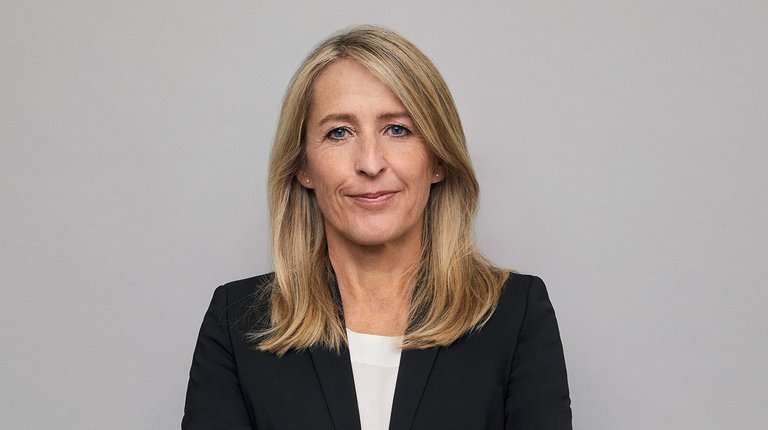 Simone Geldhäuser
Head of Media Relations & Press Spokesperson Innovation & Technology