Press Release
August 21, 2020
Tour de France – Myth, passion, challenge
​​​The Tour de France is on! Yes, the planet's biggest annual sporting event is going to happen, the finest pro cycle racers will be allowed to hare across the Grande Nation again!
From the seemingly endless rural routes of sweltering Provence to the high passes of the Alps and Pyrenees, and the magnificence of the Avenue des Champs Élysées in Paris, the eyes of the cycle racing world will be on France once more. Fans everywhere will cheer on the 176 riders from 22 teams as they give each other no quarter over 21 stages and 3,480 kilometers – and the difference between them often boils down to seconds and centimeters.
But the Tour also tells fascinating stories - not only about the actual race, but also about things that happen in the background. As Main Partner, Continental is right in the middle of it all and has published a case study, which is available to you including suitable image material.
In this booklet you'll find the following topics:
The magic of the Tour de France – Fighting for every second, descending mystical mountain passes – like the Tourmalet – at speed. Chasing heroically, crashing spectacularly
The Tour de France 2020 explained
The world's biggest party… and Continental as Main Partner of the Tour de France
Interview with Andreas Schlenke on the development of the PremiumContact 6
The PremiumContact 6 explained
Three questions to Yvon Madiot (Head of Sports and service car driver at FDJ)
Black rubber, yellow jersey – Our hand-made tires from Continental plant Korbach and how they become synonymous with success in the Tour de France
Interview with Claus Petschick on the topic of dandelion – The key to Tour de France victory?
A sporting tale – The Continental history in sports sponsoring
Whether it's Ben Stiller, cycle legend Eddy Merckx or menhir delivery man Obelix, when it comes to the Tour everyone has an opinion. Read on for a selection of quotes about the world's biggest annual sporting event
Love Actually – Meet Thai Do, the Continental employee with a very special hobby
Check out how Continental is involved in "the world's most prestigious and most difficult bicycle race".
Contact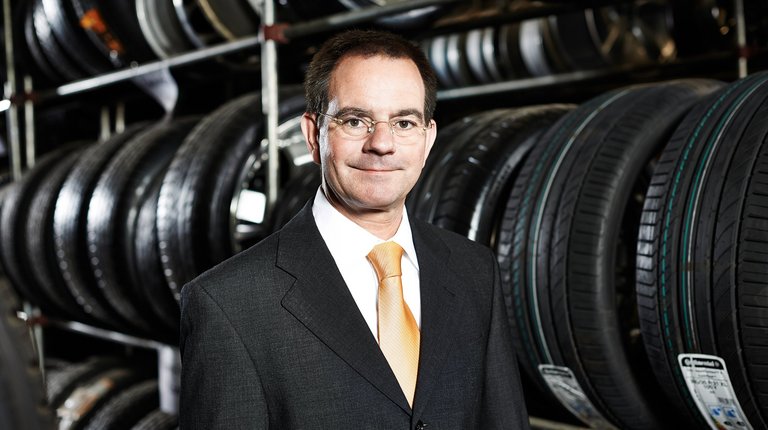 Klaus Engelhart
Press Spokesman
Passenger Car Tires / Germany, Austria, Switzerland