Press Release
April 04, 2012
Children in Germany Often See Parents Rant and Rave, Shout and Argue at the Wheel
Parents are clearly not setting a good enough example at the wheel
Many parents use their cell phones while driving despite ban
And yet German children still feel safe in the car
Hanover, April 4, 2012. Parents should act as role models for their children, be courteous in how they talk to others and mindful of good morals – at least in theory. However in practice, when they get behind the wheel of a car, parents do not always live up to this ideal, as their children's statements paint quite a different picture. Parents in Germany rant and rave (75%), shout (54%) and argue (41%) in the car in front of their children. 20% even use their cell phones while driving, while 45% show a lack of concentration at the wheel according to their children. However, German children are satisfied overall with their parents' driving style (98%) and feel safe on the roads (94%). These are the most important findings of a survey carried out among 500 children between the ages of 4 and 16 by market research company OnePoll in collaboration with the Lower Saxony Road Safety Foundation. The study was commissioned by the international automotive supplier Continental.
Other results provide an insight into the differences in driving behavior between fathers and mothers – at least in the eyes of their children. Although the majority of children asked (73%) admitted that their father usually drives faster than their mother, and more than a third (37%) described their father's driving behavior as aggressive, children on the whole prefer their father's driving style (49%).
"Our children are the drivers of tomorrow. With this in mind, parents should also set an example at the wheel. We were very surprized that most of them do not take this responsibility seriously enough. It is therefore vital that we do more to increase parental awareness of the matter. We will only be able to achieve our zero accidents goal if innovative safety technologies are used by sensible drivers both now and in the future," said Dr. Ralf Cramer, Continental Executive Board Member and Head of Chassis & Safety division responsible for Vehicle Safety Technology.
Driving Performance Rated "Good" Overall
If children in Germany were to give their parents a mark for their driving performance, the overall results would be a rather mixed bag. Parents receive good marks for their driving style and number of journeys: On the whole, 98% of children asked said they like their parents' driving style. 49% even said that their parents' driving style was better than that of other drivers. However, one in ten children said that they sometimes feel ashamed of their parents' driving habits. 17% even admitted that their parents' driving habits have scared them in the past.
Only 8% claimed to have been upset, while 2% stated that they had been worried or scared. Talking about their parents' driving habits is a matter of trust. 92% of children asked said they would not be scared to tell their parents openly that they do not like their driving style. 54% even claim to have done this already.
…Social Behavior and Concentration "Adequate to Poor"
It shows that children do not remain unaffected by the frequent ranting and raving, shouting and arguing: Many of them feel upset (22%), anxious (10%), ashamed (9%) or afraid (5%). Although 35% of the children claimed to have reacted to their parents' arguments with laughter, one in five children claim to have admonished their parents and asked them to stop. Also in the event that parents are tempted to drive too fast, their children intervene from the back seat: More than one out of three children simply ask their parents to reduce their speed. Only one in ten urge their parents to drive faster.
Aside from their manner of speaking in the car, parents' concentration at the wheel is often a cause for concern: According to the study, almost one in five parents and guardians use their cell phones while driving in the presence of their children. 45% of the children asked even admitted that their parents sometimes do not pay attention at the wheel.
"The results of this study should give all parents food for thought, because traffic-related attitudes and patterns of behavior within the family not only influence the future driving habits of their children, but also affect their risk of having an accident. This is because the more traffic accidents parents are involved in, the more likely their children are to have an accident themselves. And for children of parents with three or more traffic offenses, the likelihood of being caught committing a traffic offense is 38% higher than for children of parents with a clean driving license. The Lower Saxony Road Safety Foundation is therefore using the results of the study to develop new informative material for its prevention work with parents," said Cornelia Zieseniß, Managing Director of the foundation.
Children Confirm Driving Stereotypes
"Which of your parents usually drives faster? Who is more aggressive at the wheel and shouts more often?" "Dad!" The study results appear to confirm many a stereotype: 73% of the children in the study admitted that their father drives faster than their mother. Although 46% of the children pointed out that their parents were not aggressive drivers, 38% perceived their father as the more aggressive driver compared to their mother (12%). By a clear 13% margin, fathers also tended to shout (33%) more often while driving. And yet more children prefer their father's driving style (49%). 39% prefer the driving style of their mother, and 12% have no preference. It therefore comes as no surprise that it is normally the father who takes the wheel when both parents travel with their children. In exact figures, in the cars of 69% of respondents, it is the father who mostly drives and in 16%, it is the mother.
However, this should not be equated to the frequency of the trips, because children are mostly driven to extra-curricular activities by their mothers (52%). Just one in five fathers makes these trips. 38% of mothers and only 16% of fathers do the school round (9% are driven to school equally often by both parents and 36% do not travel with their parents to school). And yet children rate their mothers as the more inexperienced drivers. 42% of those asked admitted that their mother is more likely to drive up the curb than their father (19%). However, 39% of children do not think that either of their parents would do this. And when asked who drives more often, 43% said their mother and only 19% named their father (39% said neither nor).
Contact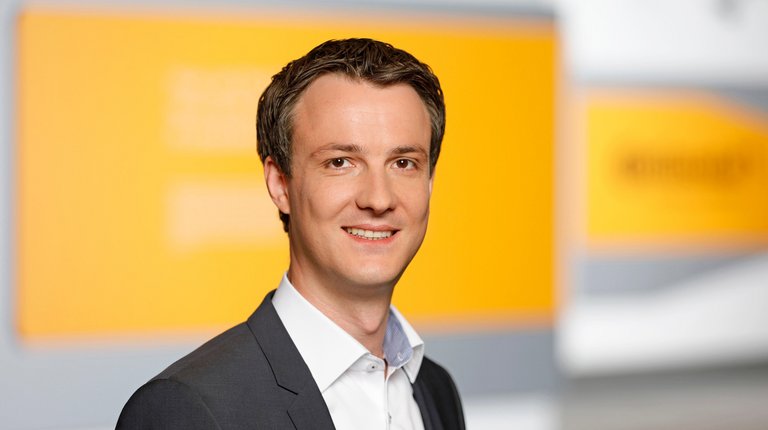 Vincent Charles
Head of Media Relations