Press Release
August 06, 2015
Continental heads research project "Ko-HAF – Cooperative Highly Automated Driving"
BMWi flagship project "Ko-HAF" launched with 16 partners
Continental takes on overall project coordination
The aim of the research is highly automated driving at higher speeds
Frankfurt am Main, Germany, August 6, 2015. The international automotive supplier Continental is taking on coordination of the "Ko-HAF – Cooperative Highly Automated Driving" combined research project. Cooperative here refers to the interaction between several highly automated vehicles. "The re­search initiative takes us a major step forward in the direction of automated driving, with road safety at the highest level being its essential basis. Ko-HAF researches not only the involvement of the driver in highly automated driving, but also cross-partner functions and communication between the highly automated vehicles", said Dr. Stefan Lüke, Ko-HAF Project Coordinator, and responsible for Advanced Driver Assistance Systems & Automation in the Advanced Engineering department in Continental's Chassis & Safety Division. Together with a consortium of automobile manufacturers, automotive suppliers and public partners, Ko-HAF was launched on June 1, 2015. Ko-HAF has a total budget of 36.3 million euros and is expected to run until November 2018. It is being supported by Germany's Federal Ministry for Economic Affairs and Energy (BMWi) as the first project within the framework of its new program "New Vehicle and System Technologies".
Highly automated driving while reading e-mails
The aim of the project is to research new systems and functions permitting highly automated driv­ing at higher speeds and in more complex situations. During highly automated driving, the driver no longer has to monitor the systems permanently and can instead leave the chore of driving to the vehicle for a certain time, freeing up time to read or write e-mails, for example. However, the driver has to be able to take over the driving task within a certain time. For the time that the driver needs to do so, it is necessary for the vehicle to correctly assess its surroundings and the traffic situation. This is a particular challenge at higher speeds and in more complex scenarios. This is one of the tasks that Ko-HAF is looking into: the starting point is a backend solution in which the vehicles communicate with one another via a server, aided by mobile radio (LTE/UMTS). The server collates and evaluates information about the vehicle surroundings, and makes it available to the vehicles in a consistent form. This method of forward-looking driving is necessary for high automation in more complex situations.
Continental is involved in a variety of work packages with experts of its Chassis & Safety and Inte­rior Divisions. For example, Continental is involved in the design of interfaces for a cross-company exchange of information on surroundings and location via the server and to visualize the relative and absolute position of the vehicle (precise position within the lane). Continental builds on its "Motion Information to X Provider" (M2XPro) concept for the networking of dynamics sensors with Global Navigation Satellite System(GNSS) information complemented with recognized landmarks. A further focus of research for Continental is on new system functions that play an important role in the cooperative interaction of vehicles. This focus is on lane changing, safe following distances and driving maneuvers at the end of lanes. In addition, testing equipment and validation methods for automated driving are being developed, which for example work on the basis of simulations.Continental is also planning to incorporate vehicles into the project, to test their communications and driving functions and to devise testing methods.
On the way to automated driving
The car of the future will offer automated driving in more and more driving situations, for example in traffic jams or near roadworks. Depending on the driving situation, the driver will be able to hand over the task of driving to the vehicle. As a systems supplier, Continental is ideally placed to de­velop solutions for automated driving and put them into series production. The fully automated car will however not appear overnight: advanced driver assistance systems on the market today represent the first step in this direction, and will allow an evolutionary development of future automation stages. This evolution will need a lot more research and development work, even though Continental can already look back on many years of development activity in the field of automation. For example, in 2011 the company already developed a highly automated assistant for driving in slow-moving traffic and near roadworks, as part of the EU research project HAVEit. Research projects like PRORETA 1 to 4, AKTIV or AdaptIVe, and participation in the DARPA Urban Challenge are just as important as a license for testing automated driving on public roads in Nevada, USA. In December 2012, Continental was the world's first automotive supplier to receive this license for a test vehicle.
Contact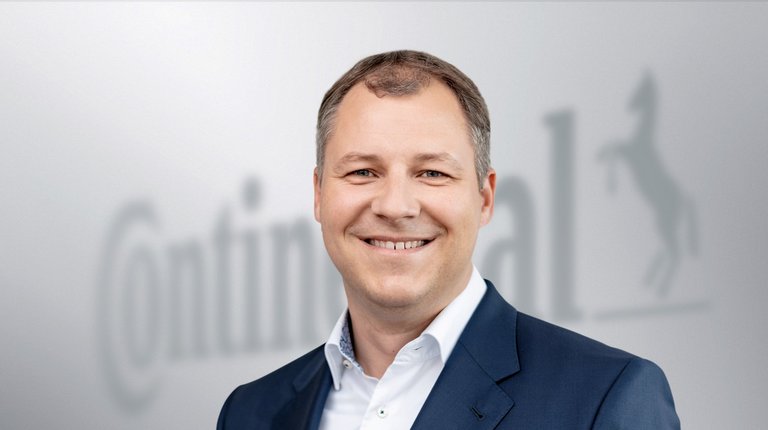 Sören Pinkow
Media Spokesperson and Topic Manager Safety and Motion