Press Release
April 29, 2016
After a Good Start to 2016, Continental Raises Margin Forecast
Automotive supplier publishes key data at its Annual Shareholders' Meeting
Sales rise three percent to €9.85 billion in first quarter
Adjusted EBIT of €1.1 billion
Forecast for adjusted EBIT margin raised to around 11 percent
Incoming orders in automotive business up by more than one-third
Hanover, April 29, 2016. The technology company Continental made a good start to the year in an economic environment that proved difficult as expected. In the first quarter of 2016, the automotive supplier, tire manufacturer, and industrial partner increased its sales by three percent year-on-year to €9.85 billion. Negative exchange-rate effects had reduced this sales growth by 2.1 percentage points. Adjusted EBIT climbed to €1.1 billion. At 11.3 percent, the adjusted EBIT margin was higher than the previous year's level of 10.6 percent.
"In light of the difficult market environment, we had a good start to the new fiscal year. This was primarily attributable to volume growth in our Tire division and the stabilization of industrial business at ContiTech. We expect the good development in the Rubber Group to continue over the remainder of the year, while the Automotive Group is expected to gain notable momentum again. For this reason, we are raising our forecast for the corporation's adjusted EBIT margin from more than 10.5 percent to around 11 percent," said Dr. Elmar Degenhart, Continental's chairman of the Executive Board, at the presentation of the key data for the first three months during the Annual Shareholders' Meeting in Hanover on Friday.
"We significantly increased our sales volumes for tires and other products in the field of rubber and plastics technology compared with the previous year. Overall, the Rubber Group achieved sales growth of more than five percent after adjustment for exchange-rate effects and changes in the scope of consolidation. In the Automotive Group, this figure was almost three percent, slightly exceeding market growth," explained Degenhart.
He added: "As anticipated, the Automotive Group's start to the year was slightly above the level of 2015. Accelerating growth was slowed by the relatively sluggish start of production at some of our main customers at the beginning of the year. Furthermore, project starts and exchange-rate effects had a negative impact on the Automotive Group compared to the previous year, but the Group is expected to gain notable momentum as the year goes on.
Degenhart continues to view the medium-term growth trend in automotive electronics business as positive: "A very pleasing development is the rise in order intake in the divisions of our Automotive Group. Compared with the same period of the previous year, life-time sales acquired in the Automotive Group increased by more than one-third to a total of over €9 billion. This significant growth once again demonstrates our customers' trust in our systems and technological expertise."
Continental will present its business figures for the first quarter of 2016 on May 4.

Contact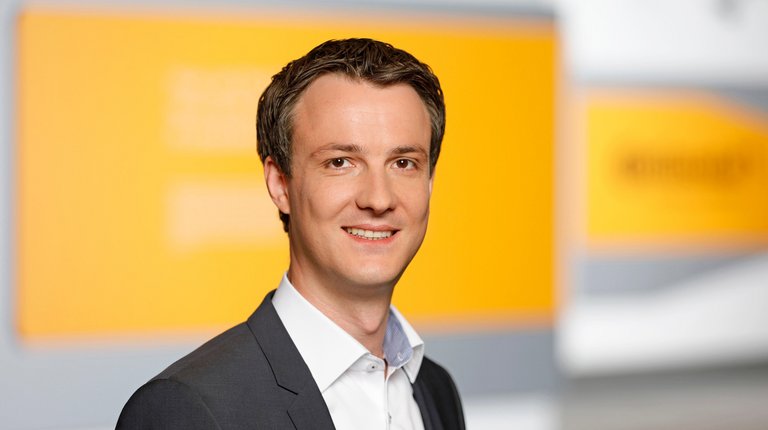 Vincent Charles
Head of Media Relations