Press Release
November 08, 2010
Master Plan for Developing Germany into Leading Electromobility Supplier
Executive Board chairman Dr. Degenhart advocates a common vision:"As automotive stronghold, Germany has the chance to capture the pole position in e-mobility"
At the same time, the International automotive supplier sees initial challenges and major opportunity to be derived from enormous state incentive program in China
Continental is well positioned for conventional and innovative mobility of the future
Leipzig / Hanover, November 8, 2010. The international automotive supplier Continental is advocating a master plan for future mobility in which e-mobility will have a fundamental role to play. "Continental is convinced that e-mobility is on the verge of extraordinary development. As automotive stronghold, Germany has a chance at the pole position and what it takes to become the world's leading supplier of e-mobility," said Continental Executive Board chairman Dr. Elmar Degenhart at the VDE Congress "e-Mobility" in Leipzig on Monday. This requires a master plan that bundles together, in interdisciplinary fashion, the diverse incipient requirements and the know-how needed for solutions. All the partners involved should work together in developing this plan: i.e. the automotive and energy industries, urban and traffic planners, IT professionals, designers, institutions, fleet managers, scientists, politicians, administrators and many others," he said.
The Continental Corporation is a leading supplier of innovative concepts and products for e-mobility. As of 2011, it will become the first automotive supplier to produce complete electrical power trains for the series vehicle manufactured by a European carmaker. For this purpose alone, 12 million euros have been invested in the plant in Gifhorn in Lower Saxony. For the time being, annual production capacity is set at up to 60,000 electric motors.
"The next generations will likewise want individual mobility that is everything at the same time – eco-friendly, energy-saving, safe and rewarding. It is high time that we take the concerns of people with regard to future mobility seriously and get a fundamental and wide-ranging debate going," demanded Degenhart in Leipzig. Utility/destination thinking is an essential point for new car generations. In 2050 there will no longer be one car for everything.
The electric car will come - in the city and for short distances much sooner than in rural areas and for long hauls. Maybe these initial solutions will take the form of hybrid vehicles, and we will, of course, continue to rely on combustion engines for a transitional period. They still harbor considerable potential."
In the hybrid area, Continental became, in 2008, the first supplier anywhere in the world to produce lithium-ion batteries for a production car – the Mercedes S 400 HYBRID. These ultra high-performance batteries store the energy for the electric motor, which supports the combustion engine in saving fuel in the S-class's mild hybrid version, making it a highly efficient luxury sedan. The automotive supplier also has a wide range of solutions for more fuel-efficient and eco-friendly combustion engines, including turbocharger systems.
At the same time Degenhart warned against wasting time in Germany: "In all likelihood we will see China out ahead of us in the upcoming development. In the next ten years, the central government there will promote electric power trains with massive funding in the order of €1 billion a year. China already has 60 million electric scooters on its roads. China is moving ahead and has taken the lead as a market for the mobile future," he pointed out. "This should not be anything for us to fear as we have the know-how that is needed there. Development in China, the huge Middle Kingdom, is therefore an enormous opportunity for us in Germany, if we join forces and tackle it! And in this regard I very deliberately say leading supplier and not leading market: That should be our common vision for one of the most innovative and most value-creative industries on this planet."
Remarks of the CEO of Continental AG Dr. Elmar Degenhart at the VDE Congress 2010 on 8 November 2010 in Leipzig - pdf (76KB).
Contact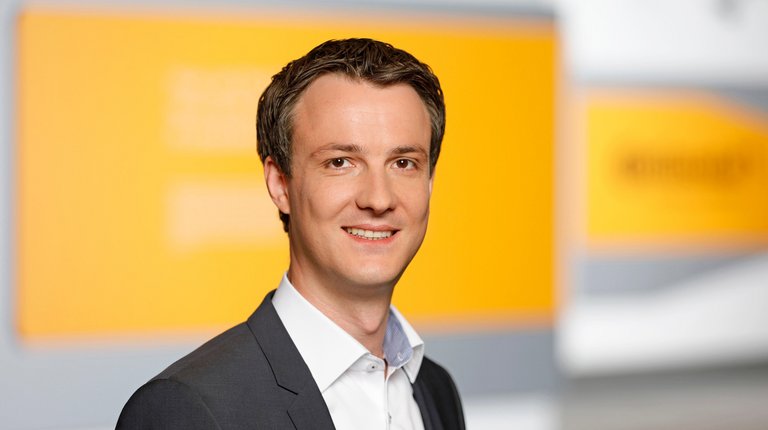 Vincent Charles
Head of Media Relations